Which countries have the most volcanoes? I am currently learning the programming language Python, mainly to visualise data and draw maps. Since the examples in the tutorials were too boring for me, I have taken on more interesting questions.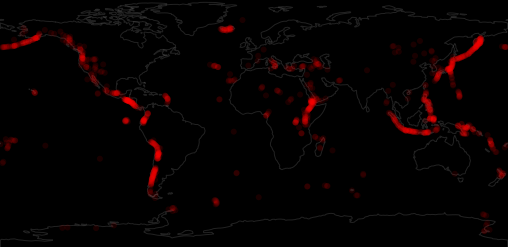 An interesting dataset is the list of active volcanoes (i.e. at least 1 eruption in the Holocene) from https://volcano.si.edu/, which can be downloaded as an Excel spreadsheet.
As a choropleth map I wanted the number of volcanoes per country. It was then not so easy to combine the data set with other data sets (the shapefiles of the countries etc.)…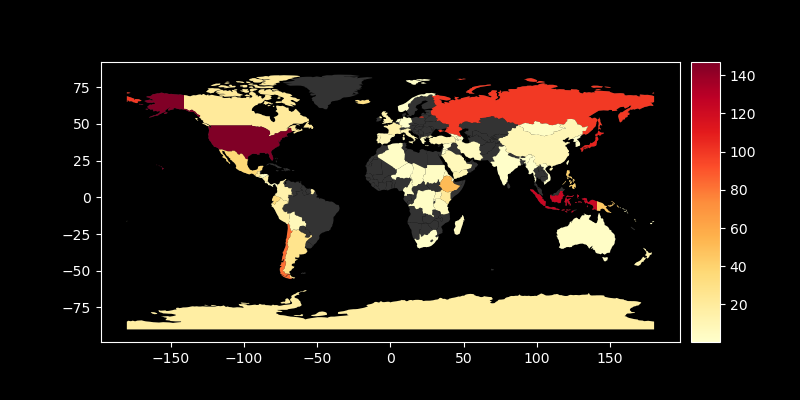 I was surprised that the USA is number one with 147 volcanoes. However, 26% of these are on the Aleutian Islands and 22% on the Alaska Peninsula … Indonesia follows in second place with 123 volcanoes, Russia in third place with 99 volcanoes, then come Japan and Chile.
Now that I have the dataset in shape, I can easily find answers to other questions I have never asked myself. Fun Fact: Tonga has the most volcanoes per square kilometre! No wonder it's mostly small island states that show up here. Only one non-island state makes it into the top ten, and that is El Salvador.
| | Country | Volcanoes per km2 |
| --- | --- | --- |
| 1 | Tonga | 0.008021 |
| 2 | Saint Kitts and Nevis | 0.007663 |
| 3 | Dominica | 0.006631 |
| 4 | Grenada | 0.002907 |
| 5 | Saint Vincent and the Grenadines | 0.002571 |
| 6 | Saint Lucia | 0.001623 |
| 7 | Vanuatu | 0.001148 |
| 8 | Comoros | 0.000922 |
| 9 | El Salvador | 0.000903 |
| 10 | Samoa | 0.000679 |
| 11 | Cape Verde | 0.000496 |
| 12 | Iceland | 0.000291 |
| 13 | Japan | 0.000283 |
| 14 | Guatemala | 0.000197 |
| 15 | Costa Rica | 0.000196 |
| 16 | Fiji | 0.000164 |
| 17 | Solomon Islands | 0.000141 |
| 18 | Armenia | 0.000134 |
| 19 | Philippines | 0.000133 |
| 20 | Nicaragua | 0.000131 |
| 21 | Ecuador | 0.000122 |
| 22 | Portugal | 0.000119 |
| 23 | Chile | 0.000109 |
| 24 | Equatorial Guinea | 0.000107 |
| 25 | Djibouti | 0.000100 |