A Beginner's Guide to Economic Geology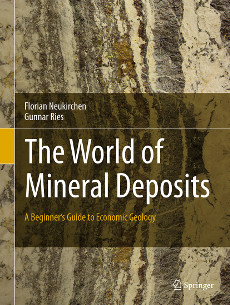 Florian Neukirchen, Gunnar Ries
The World of Mineral Deposits
A Beginner's Guide to Economic Geology
March 2020,
Springer
Hardcover, ISBN 978-3-030-34346-0
Translation of
Die Welt der Rohstoffe
(2
nd
Ed.)
▸ Easy to understand how deposits are formed
▸ Provides information to where raw materials can be found
▸ Contains many digressions about geological basics and economic aspects
This vivid introduction to economic geology not only describes the most important deposit types, but also the processes involved in their formation. Magmatic, hydrothermal and sedimentary processes as well as weathering and alteration are explained in the framework of plate tectonics and the history of the Earth. The chapter about fossil fuels includes unconventional deposits and the much-debated fracking. Other topics covered are exploration, mining and economic aspects like commodity prices.
Contents
1 Introduction
1.1 What is an Ore? • 1.2 Selected Ore Minerals • 1.2.1 Sulfides • 1.2.2 Oxides and Hydroxides • 1.2.3 Carbonates • 1.3 Resources, Reserves, and Consumption • 1.4 Markets • 1.5 Where to Search and How? • 1.6 Remote Sensing • 1.7 Geophysical Exploration • 1.8 Geochemical Exploration • 1.9 Drilling • 1.10 Open-Pit Mining • 1.11 Underground Mining • 1.12 In Situ Leaching • 1.13 Deap-Sea Mining • 1.14 Environmental Degradation, Land Use, and Social Responsibility • 1.15 Mineral Processing • 1.16 Smelting • 1.17 Recycling • 1.18 Cast, Forged, and Chased • 1.19 The Composition of the Earth • 1.20 Geochemical Classification of Elements
2 The World of Metals
2.1 Iron and Steel Refiners • 2.1.1 Iron (Fe) • 2.1.2 Manganese (Mn) • 2.1.3 Chromium (Cr) • 2.1.4 Nickel (Ni) • 2.1.5 Cobalt (Co) • 2.1.6 Molybdenum (Mo) • 2.1.7 Vanadium (V) • 2.1.8 Tungsten (W) • 2.1.9 Tantalum (Ta) and Niobium (Nb) • 2.2 Non-Ferrous Metals • 2.2.1 Copper (Cu) • 2.2.2 Lead (Pb) • 2.2.3 Zinc (Zn) • 2.2.4 Cadmium (Cd) • 2.2.5 Tin (Sn) • 2.3 Precious Metals • 2.3.1 Gold (Au) 2.3.2 Silver (Ag) • 2.3.3 Platinum-Group Elements • 2.4 Light Metals • 2.4.1 Aluminum (Al) • 2.4.2 Titanium (Ti) • 2.4.3 Magnesium (Mg) • 2.5 Rare-Earth Elements • 2.6 Other Metals and Metalloids • 2.6.1 Lithium (Li) • 2.6.2 Boron (B) • 2.6.3 Beryllium (Be) • 2.6.4 Germanium (Ge) • 2.6.5 Indium (In) • 2.6.6 Gallium (Ga) • 2.6.7 Selenium (Se) and Tellurium (Te) • 2.6.8 Thallium (Tl) • 2.6.9 Mercury (Hg) • 2.6.10 Antimony (Sb) • 2.6.11 Arsenic (As) • 2.6.12 Bismuth (Bi) • 2.6.13 Uranium (U) and Thorium (Th) • 2.6.14 Zirconium (Zr) and Hafnium (Hf) • 2.6.15 Silicon (Si)
3 Magmatic Deposits
3.1 Diversification of Magmas (Introduction) • 3.1.1 Generation of Magmas and Fractional Crystallization • 3.1.2 Liquid Immiscibility • 3.2 Podiform Chromite Deposits in Ophiolites • 3.3 Layered Mafic Intrusions • 3.3.1 Magmatic Layering and Its Causes • 3.3.2 Chromium, Nickel, and Platinum in Basic Magmas • 3.3.3 Bushveld Complex • 3.3.4 Great Dyke • 3.3.5 Sudbury Igneous Complex • 3.4 Komatiite Hosted Deposits • 3.5 Anorthosite-Hosted Deposits • 3.6 Kiruna-Type Magnetite Apatite Iron Ore • 3.7 Granite (Introduction) • 3.7.1 Tin Granite • 3.8 Pegmatite • 3.9 Alkaline Rocks (Introduction) • 3.10 Carbonatite • 3.10.1 Phoscorite • 3.11 Agpaitic Rocks • 3.11.1 Ilimmaussaq • 3.11.2 Khibina and Lovozero • 3.12 Ivigtut
4 Hydrothermal Deposits
4.1 Hydrothermal Veins • 4.1.1 Veins in the Black Forest • 4.1.2 Polymetallic Veins in the Ore Mountains • 4.2 Orogenic Gold Veins • 4.3 Epithermal Gold and Gold-Silver Veins • 4.4 Porphyry Copper Deposits • 4.4.1 Porphyry Molybdenum Deposits (Climax Type) • 4.4.2 Porphyry Gold (Intrusion-Related Gold) • 4.5 Tin-Tungsten Deposits • 4.6 Greisen • 4.7 Iron Oxide Copper Gold Deposits • 4.8 Chimneys and Mantos • 4.9 Skarn • 4.10 Metasomatic Siderite Deposits • 4.11 Carlin-Type Gold • 4.12 Mississippi Valley Type • 4.13 Sandstone-Hosted Copper and Lead-Zinc Deposits • 4.14 Unconformity-Related and Sandstone-Hosted Uranium Deposits • 4.15 Hydrothermal Systems on the Seafloor (Introduction) • 4.15.1 Black Smokers • 4.15.2 Marine Brine Pools and Atlantis II Deep • 4.16 Volcanogenic Massive Sulfide Deposits (VMS) • 4.16.1 Cyprus-Type Volcanogenic Massive Sulfide Deposits in the Troodos Ophiolite • 4.16.2 Besshi (Japan) • 4.16.3 Kuroko (Japan) • 4.16.4 Iberian Pyrite Belt • 4.17 Sedimentary Exhalative Deposits (SEDEX) • 4.18 Lahn-Dill-Type Iron Deposits
5 Deposits Formed by Sedimentation and Weathering
5.1 Stratiform Sediment-Hosted Copper Deposits • 5.1.1 Kupferschiefer in Europe • 5.1.2 Central African Copper Belt • 5.2 Banded Iron Formation • 5.3 Iron Oolite • 5.4 Bean Ore • 5.5 Sedimentary Manganese Deposits • 5.6 Manganese Nodules • 5.7 Evaporites • 5.8 Phosphorite • 5.9 Placer Deposits • 5.10 Weathering (Introduction) • 5.11 Laterite and Bauxite • 5.11.1 Bauxite • 5.11.2 Lateritic Nickel Deposits • 5.11.3 Lateritic Gold Deposits • 5.11.4 Lateritic Rare-Earth Element Deposits (Ion Adsorption Clay) • 5.12 Duricrusts
6 Fossil Fuels
6.1 From Peat to Coal • 6.2 From Algae to Petroleum • 6.3 Petoleum and Natural Gas: Migration into Traps • 6.4 Oil in the Persian Gulf • 6.5 Production of Petroleum and Natural Gas • 6.6 Peak Oil • 6.7 Fracking: Shale Gas and Tight Oil • 6.8 Oil Shale • 6.9 Tar Sand and Heavy Crude Oil • 6.10 Methane Hydrates
7 Industrial Minerals and Rocks
7.1 Sand, Gravel, and Natural Stones • 7.2 Lime, Marl, and Dolomite • 7.3 Tuff, Pumice, Perlite, Pozzulan, and Trass • 7.4 Feldspar, Quartz, and Mica • 7.5 Clay and Kaolin • 7.6 Aluminium Silicates • 7.7 Wollastonite • 7.8 Garnet • 7.9 Olivine (Forsterite) • 7.10 Magnesite, Talc, and Soapstone • 7.11 Corundum • 7.12 Diamond • 7.13 Diatomite (Diatomaceous Earth) • 7.14 Fluorite and Baryte • 7.15 Zeolites • 7.16 Graphite • 7.17 Sulfur