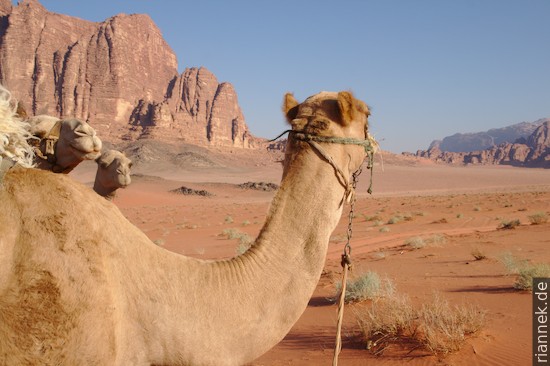 The echo distorts the call of the muezzin in the village of Rum into a strangely rising and falling music. The surroundings are a fascinating desert landscape that attracts tourists like a magnet: high mountains of sandstone stand like islands on a wide yellowish plain that narrows into a narrow gorges elsewhere. A few sand dunes, bizarrely shaped rocks, rock arches…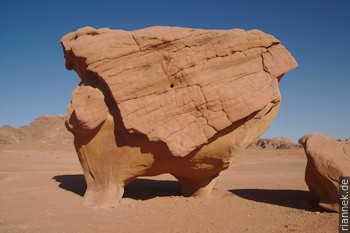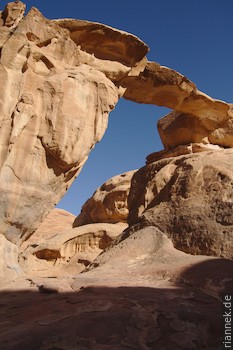 I take a jeep tour as an introduction before exploring the area on foot – barefoot. In the evening we sit with a nargile in the camp, watch the shooting stars and decide not to sleep in the tent but on a small rock next door. In the middle of the night I wake up to footsteps roaming around us and suddenly a Bedouin in white flowing robes is standing next to us: "Camel riding tomorrow?" However, his camel, which was meant for someone else, had disappeared the next morning, it took hours to recapture it. A day later, things seemed to work better with the camels at first, each one was tied to the saddle of the one in front and so we started our way back towards the village. At some point, the camel driver spurred the front one to a gallop, which they all followed except the last one, the one behind me. Before I knew it, I was flying in a high arc, saddle and all, into the sand! Now we were allowed to steer the animals ourselves, which worked much better.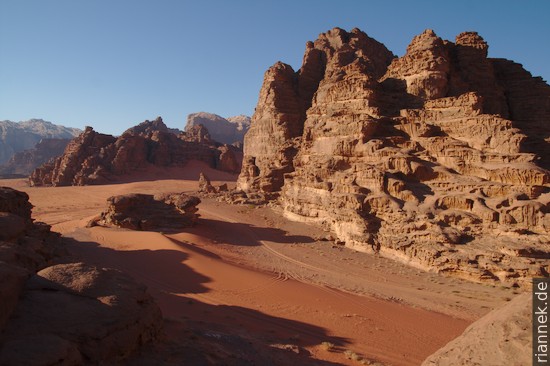 Last but not least, I did a rewarding hike from the village, through a narrow gorge across the mountain to the east. The path is not always easy to find and at each (dry) "waterfall" it became easy climbing. At some point I couldn't find the way, the only thing that looked possible was up a crack and at the top there was actually a cairn… But then the last metres were very unpleasant, I got stuck in an hourglass with my backpack, barefoot because that was still better than sandals, and groped desperately for a handhold. Finally I summon up all my courage, just don't fall now. At the top, it seems to me that I should have climbed up to a rocky ledge a long way earlier… So on this tour a guide would have been a good idea. In the end I arrive at the sand dunes and hike back in a wide arc.
---
Read on
Backpacking trip Middle East and Caucasus 2008
Petra
Dana
Karak
Jerash