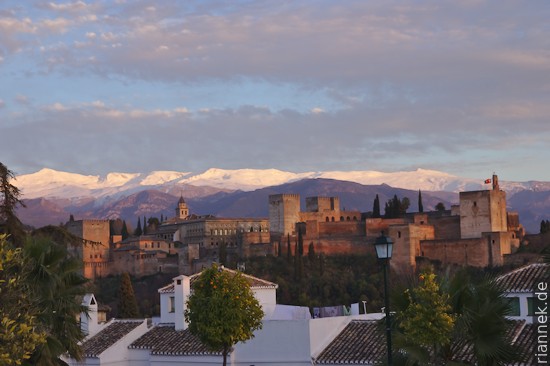 Granada, a wonderful name for a wonderful city. Most impressive, of course, is the Alhambra, which I would rank among the absolute highlights of Europe. I love the view from one of the vantage points in the neighbouring Albayzin district: the massive walls and battlements, the palaces and, in the background, the gleaming white Sierra Nevada.
The heart of the complex is the Nasrid Palace, built around 1300, with its courtyards, halls and baths. I have seen quite a bit of Islamic architecture, so if I had to make a top list, I would probably include this palace (no, I refuse to make a list). The special thing, of course, is that this gem has been preserved and hardly changed in the centuries that followed. The Catholic conquerors inserted their coat of arms into the fine stucco in places, but at least so carefully that it is hardly disturbing.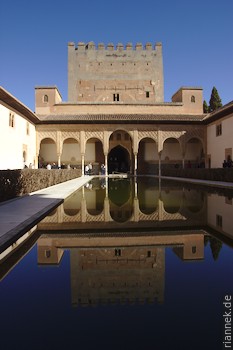 Of course, a constant stream of tourists flows through the palace. Numbers are limited, so you should reserve a ticket on the internet, which you can pick up in Granada at the Alhambra bookshop. You also have to set the time you enter the Nasrid Palace, the rest is flexible.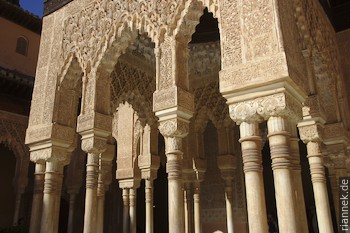 The second highlight is Generalife, a small summer palace next to the Alhambra. The most beautiful part of the city proper is the hilly Albayzin district with its alleyways and views. In the city centre, the monumental cathedral and the neighbouring Capilla Real (with the tombs of the Catholic kings) are of particular interest – a stark contrast to the dainty architecture of the Nazarites.
---
Read on