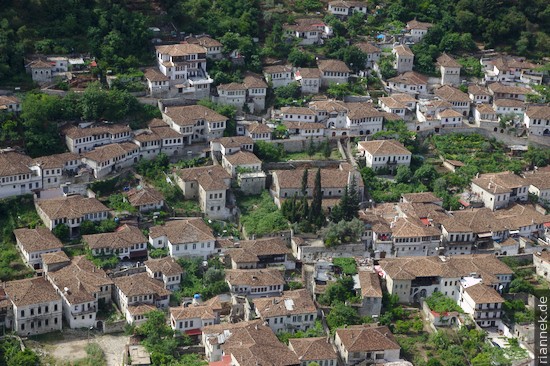 Albania is the land of mini-bunkers, potholes and petrol stations. Here we encountered the worst roads we have come across in Europe (but there are now also some new and good roads). On some routes there is a petrol station every 50 or 100 m for dozens of kilometres. And the same mini-bunkers are really everywhere, on beaches, next to car parks, in towns and villages next to playgrounds and on wastelands, at the side of the road and in front gardens. They recall Hoxha's paranoid fear that the imperialists of the West or the revisionists of the East might invade the only true socialist country.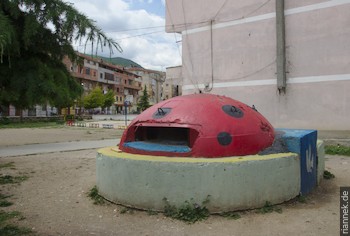 Coming from Montenegro, Shkodra is our first stop in Albania. There is a large fortress overlooking the lake and a lively city centre, largely made up of modern and a few reconstructed buildings.
We see even more life and more high-rise buildings in Tirana. The history museum, often photographed for its socialist mosaic, is disappointing from the inside. More interesting is the so-called pyramid, once built in honour of Hoxha and now half-ruined, it has a morbid charm.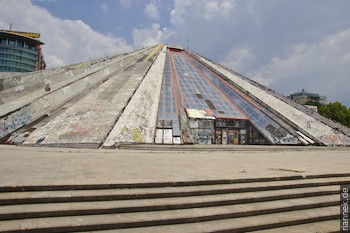 Not far from Tirana is Kruja, where the medieval Albanian national hero comes from. However, the place is mainly a tourist trap for Albanian nationalists. There is not much to see of the castle, and we didn't even want to look at the Skanderbek museum towering inside. Below there is another alley with "Ottoman" houses full of souvenir shops that look suspiciously like new buildings.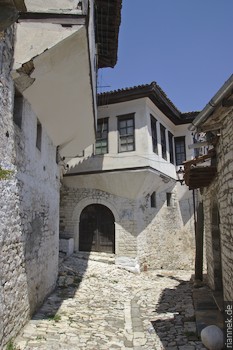 During a heavy rainstorm, we bump along a small road littered with potholes, oil rigs constantly appear in the fog, reminding me of old photos of old oil fields.
I think Berat is the highlight of the country. There are several districts with pretty white Ottoman houses, on both sides of a gorge and on the top inside the fortress walls, plus a few old mosques and old churches.
In the south we follow the coast, south of the Llogaraja pass we find an almost empty beach, behind which unfortunately the excavation pits for a new resort were just being dug, but which was otherwise still undeveloped and had beautiful turquoise water.
Butrint is within sight of Greece. Situated on a peninsula between a lagoon and the channel flowing into the sea, the ruins from Greek and Roman antiquity may not be the most massive or graceful ruins in the Mediterranean, but the location and the greenery of the many trees make it a pleasure to visit.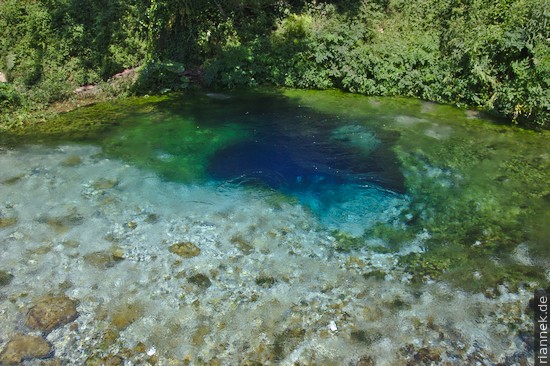 Very beautiful is the deep blue funnel-shaped karst spring Syri i Kalter or Blue Eye Spring. Over a small pass we continue to Gjirokastra, an old town scattered on the hills below a large fortress. Unlike Berat, however, I found the town disappointing, as there are always modern concrete blocks between the old houses.
---
Read on