A typical Asian holiday village: kitsch, mini zoo, Ferris wheel… But nicely situated between two volcoes. On the way through the surrounding villages it happened: I looked too much into the landscape and fell off my scooter. A good graze on the calf and a small, somewhat deeper one on the foot: fortunately not really bad. The next day I sit at the caldera lake Maninjau – at times grotesquely under the mosquito net, because of the flies.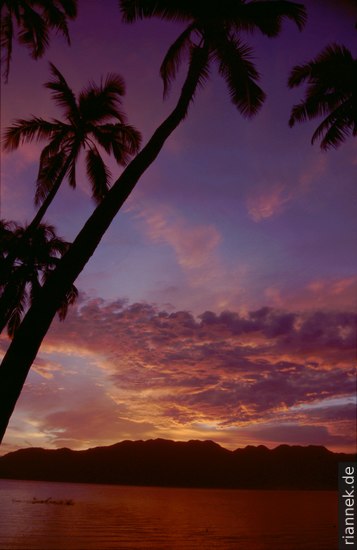 Two days later we (I am travelling with a British couple) go back to Bukittinggi, at 7am we buy a ticket from a travel agency at the bus station for a bus to Jakarta (32 hours) for 9am. Strange that there are no AC buses anywhere and no counters of big bus companies – they have their own depods, as we find out later. We are put off until 11 am, the bus is late, then we are driven by minibus to another place ("wait a few minutes") and there a jumping jack finally tries to put us on any bus: Plastic stool without backrest? For 30 hours? Around 12:00 he says our bus is "broken down" and we suspect that it never existed. Quite angry and under wild threats we let him drive us back to the agency. We get our money back, but the guy who sold us the tickets has left in a panic. As the buses only run in the morning and we want to get out of the town, we drive to Padang at around 3 pm: we had heard about cheap airline tickets, but in the end we got a bus ticket for the next day at 9 am, directly from a big company.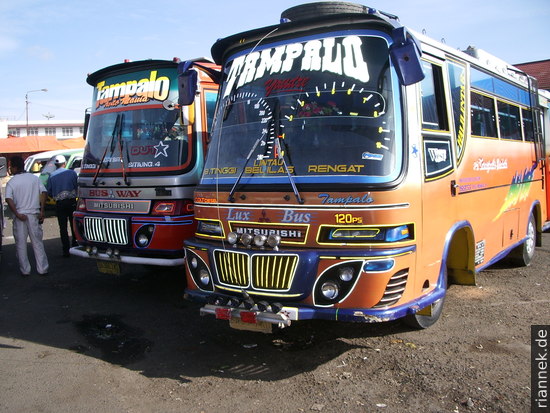 The next morning I want to change money quickly (because of the weekend), but I am sent to the next bank with my traveller's cheques (a maximum of 50 euros comes out of the ATM!), where they want to send me back again. Then they change them for me, but it takes 40 minutes. Luckily Jess and Steve have already driven up, because the minibus, whose driver said "yes" to the name of the bus company, takes me to a small sales office of the same company, not to where the bus leaves! I still have 4 minutes and no taxi for miles! I manage to hire a minibus driver to play taxi and arrive 14 minutes late – but Jess and Steve managed to hold the bus up that long. Whew. The 30 hours to the other end of Sumatra are pretty uneventful – apart from the fact that the thin road ("highway") is so paved with potholes that no Valium helps any more. I get off here for Krakatoa, the other two want to go straight to Jakarta.
---
Read on