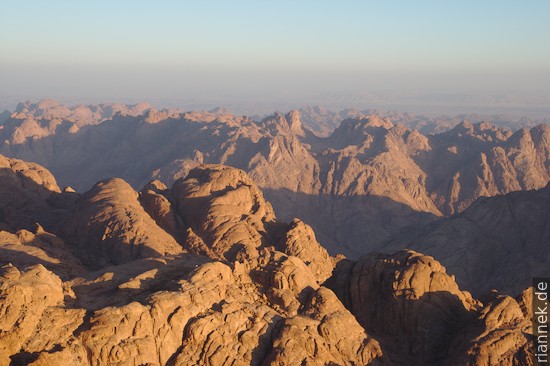 Deep blue water full of coral reefs, with reddish granite mountains towering behind. So beautiful that this is the third time I've come to this coast. In places, the granite rocks are criss-crossed by swarms of black dykes like a zebra pattern.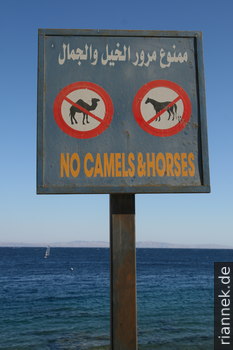 Nuweiba is almost deserted, the camps and restaurants are empty and the few tourists are retired. Is this due to the low season or the recent terrorist season? Dahab is busier. I just turned my diving licence into an "Advanced" and thus spend a good part of my time under water. It's like splashing around in an aquarium, lots of little colourful fish. If I'm not diving, I'm snorkelling through a fruit shake with a straw…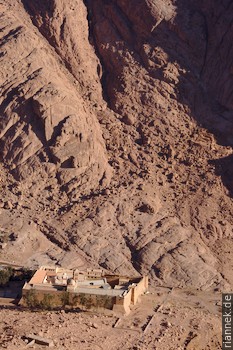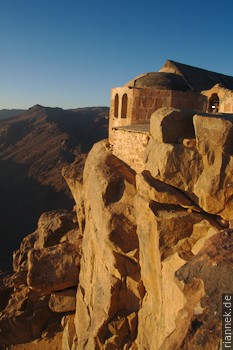 I also want to climb Mount Sinai (Moses Mountain) again, not because of Moses and his tablets of the law, but because the view from up there is fantastic. The local tourist police have come up with something new: they won't let anyone up there without a guide. I can already see the dollar signs flashing in their eyes, Baksheesh…. Quite witless, firstly I was already up there a few years ago, secondly I know how impossible it is to miss the wide path. Without me! Instead of taking the normal path from St Catherine's Monastery, I just take a path that goes up a valley from the village and get to the top from the back side. Without a checkpoint. After sunset it gets quiet up there, I lie in a wind-protected corner. In the middle of the night it gets noisy, thousands of tourists arrive shouting loudly and occupy every little stone you can sit on to see the sunrise….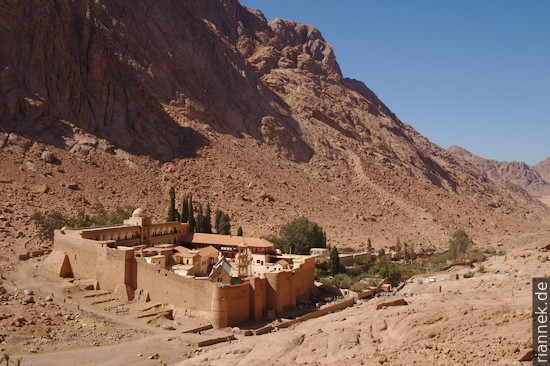 ---
Read on
Backpacking trip Middle East and Caucasus 2008
Oasis of Siwa
Cairo
White Desert
Makhtesh Ramon
The Formation of Mountains