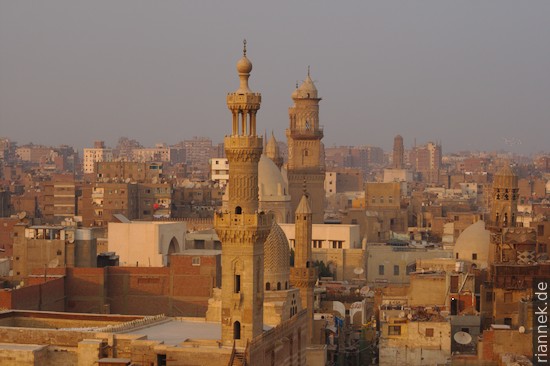 The Islamic old city of Cairo is a wondrous collection of domes, minarets, market alleys, fountain houses; most of them in dusty brownish-grey colour. In between, a dense throng of market criers, porters, shoppers and tourists. The most beautiful buildings were built by the Mamluks. These were originally soldier-slaves, Turks bought by the Middle Eastern sultans in southern Russia or the Caucasus, who were converted to Islam and formed an elite unit. After internal struggles between the various Arab dynasties and the Seventh Crusade, they took power from Egypt itself. They built especially many mosques (also in Jerusalem, Damascus, Tripoli…) to prove their still young faith. Often the facades are striped in 2 or 3 colours by using different stones. Star patterns in half relief on monochrome domes and the minarets are also typical. The minarets often end in an egg-shaped knob.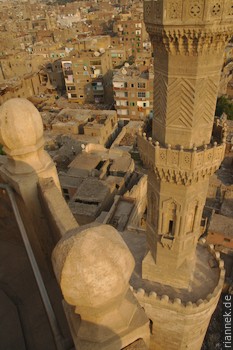 The Northern Cemetery is also exciting. You feel like you're in a village, with houses, shops, teahouses. And in between, there are always graves, some small and simple, others large domed buildings. In the center is the Qaitbey mosque, perhaps the most beautiful Mamluk mosque. But the three policemen in front of it send me away, no tourists… I sit down in the tea house next door and a man explains to me with a wink that the policemen will disappear in 5 minutes, and then I can go in… Of course he was right.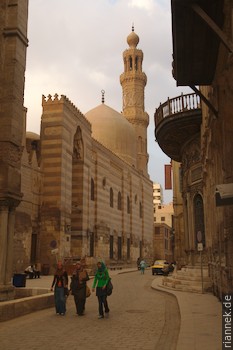 The pyramids. Did I say there were few tourists in Egypt? I was first to the ticket office in the morning (which had no change, as if they weren't expecting visitors today) and could actually enjoy this wonder rising out of the haze for half an hour. But then a gigantic bus park had already formed between the two larger pyramids and streams of tourists scurried around them like ants around their burrow. In the meantime, the whole area has been widely cordoned off, the entrance secured like a border crossing. I am not alone in the Egyptian Museum either, but am swept through the abundance of great pieces by a huge stream.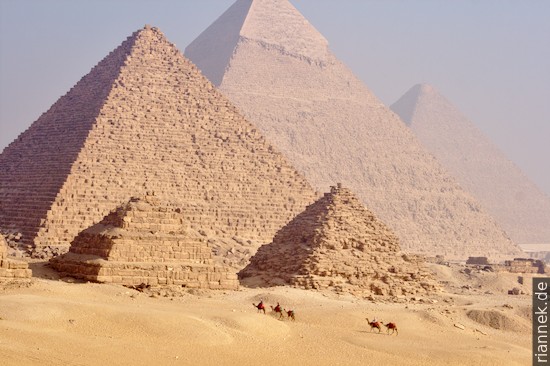 ---
Read on
Backpacking trip Middle East and Caucasus 2008
Sinai
Oasis of Siwa
White Desert
Via Aswan and Luxor to Leipzig…