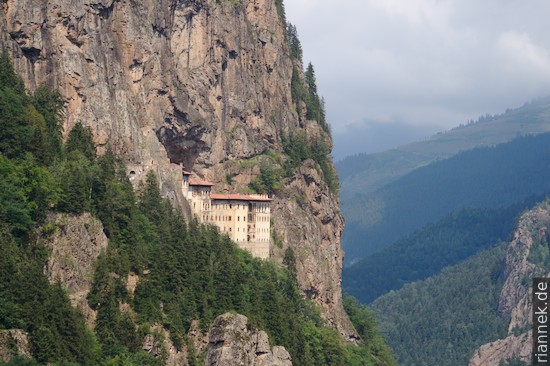 The Byzantine monastery of Sumela clings to a rock face like a swallow's nest. From a distance it looks magnificent, the gorge with dark coniferous forest, waterfalls, rocks, the thick walls. Inside, however, there are more tourists crowding into the confined space than I have seen in the last few weeks. And of course, the massive buildings behind which the small older parts are hidden are only one or two hundred years old…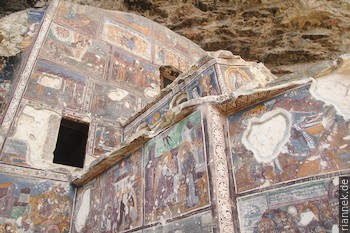 I find the frescoes in the Aya Sofia (13th century) in Trabzon more exciting. The Ascension does not seem to have been good for Jesus, he is all green in the face!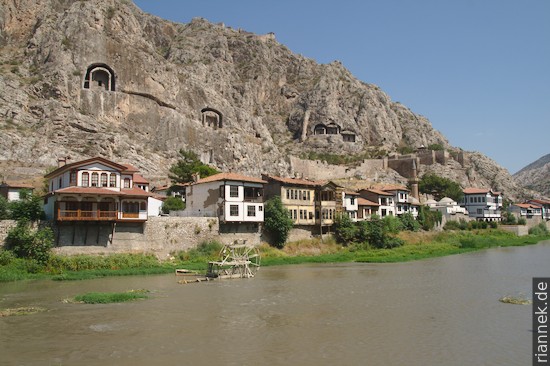 For a few hundred kilometres, a highway runs directly along the shore, no reason to stop. My next stop, a little inland, is the relatively unknown Amasya. A pretty old town along the river and in the rock face below the citadel the tombs of the Pontic kings. Nice.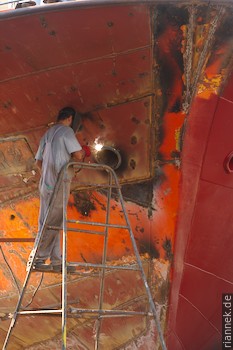 From Sinop on, the coast becomes really beautiful, a tiny road winds up and down from bay to bay, green forest drops down into the blue sea, cliffs and lonely beaches. Unfortunately, there is hardly any traffic, so without car you can't just get off at a beach. I shimmy from minibus to minibus and for one stretch I have to charter a lift together with four others, because the last minibus of the day had already left in the early afternoon…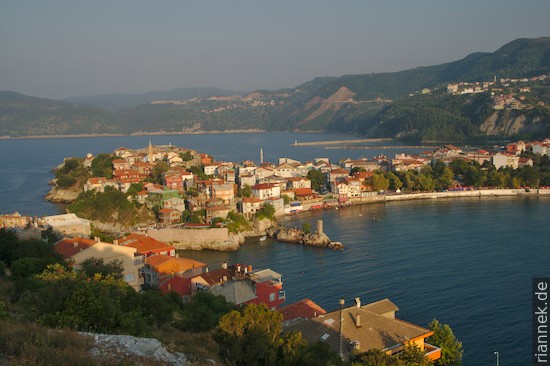 Amasra is considered the prettiest place along the coast, so it is packed with (Turkish) tourists. Nevertheless, it is nicely situated on a peninsula plus an islet attached by a Roman bridge.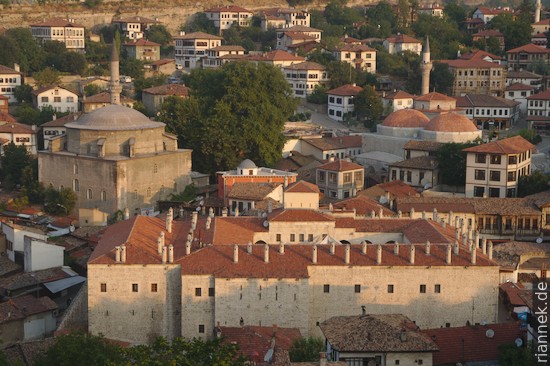 Safranbolu is the typical small Ottoman town. All the beautiful old houses have not been demolished and replaced by modern functional buildings as in almost all Turkish towns, but restored. Part of the fun, of course, is living in one of these houses and lounging on the divan. However, my room also has a real bed and a real bathroom, which didn't exist before…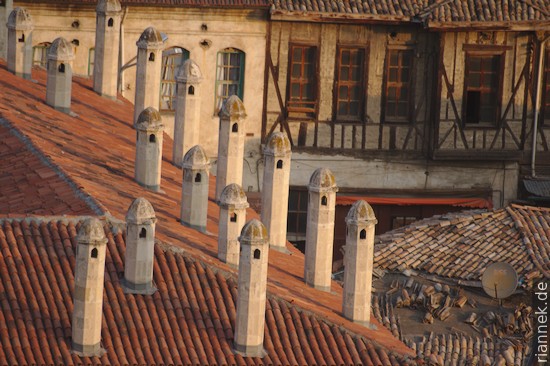 ---
Read on
Backpacking trip Middle East and Caucasus 2008
Istanbul
Cappadocia
Lake Van
Ani
Trekking Mount Kaçkar
Museums in Ankara and Antakya