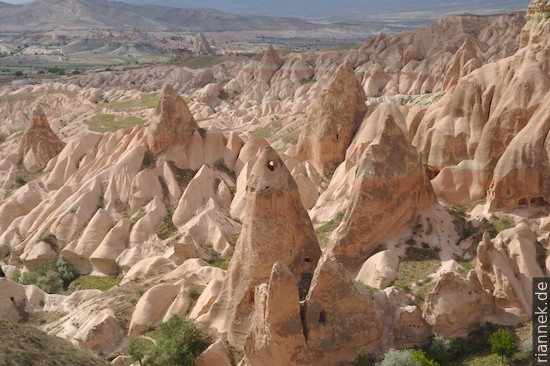 Once again I walk through the fairy-tale ignimbrite landscape of Cappadocia. In the valleys around Göreme, bizarrely shaped rocks keep coming into view; towers and cones, rocks with a drape like long robes in white, red, brown, yellow, fairy chimneys and fortresses, many perforated and used as dwellings. Of course, we also join the crowds of tourists pushing their way through the cave churches cut into the rock, some with quite well-preserved frescoes.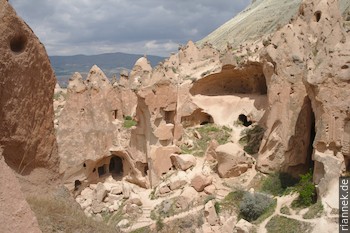 The region was already of great importance in the early days of Christianity, but most of the churches date from the 10th and 11th centuries. However, it is much more exciting to stroll through the more remote valleys, climb steep steps to an almost forgotten church or enjoy trail-less new vantage points.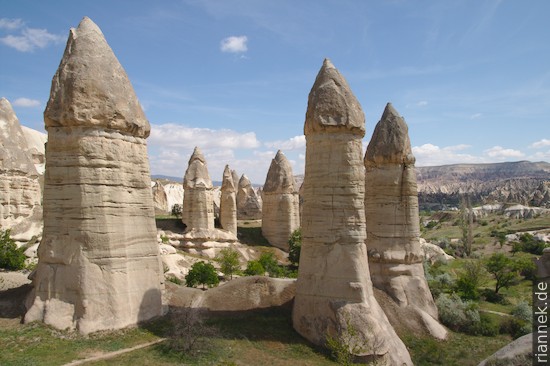 On the eastern margin of Cappadocia, we spend two hours at dusk in the big city of Kayseri, which sprawls at the foot of the Erciyes volcano. Tourists rarely seem to stray here, even though the Seljuk mosques and walls of black basalt are impressive. We constantly meet Turks who once lived in Germany as guest workers and talk about their time in Berlin or Düsseldorf.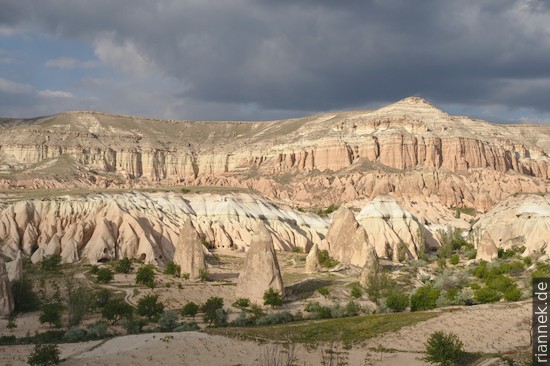 On the way from Istanbul to Göreme, we spent a morning in Konya, once the capital of the Rum Seljuks (who originally came from the steppes of Central Asia), of which a few mostly smaller buildings remain. The largest and most exciting of these is the mausoleum of the founder of the Mevlevi Order, better known as the Dancing Dervishes. A turquoise cone rises above the tomb, its shape reminiscent of Armenian churches ;-). Possibly this cone shape, also seen on other Seljuk buildings, is derived from the tents of the nomads.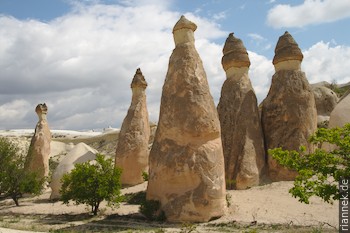 Read on
Backpacking trip Middle East and Caucasus 2008
Tuz Gölü
Meke Gölü
Istanbul
Nemrut
Lake Van
Ani
Trekking Mount Kaçkar
Turkish Black Sea Coast
Museums in Ankara and Antakya