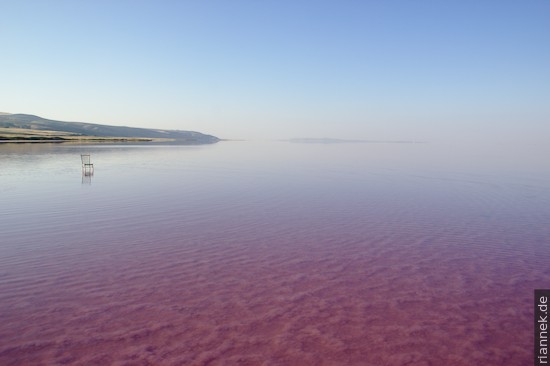 The Tuz Gölü salt lake is the second largest lake in Turkey and one of the saltiest lakes in the world. It is quite shallow, you can wade into the water for a long distance and far from the shore you still stand ankle-deep in water. The maximum depth is only about 1 m. Every year, 2.5 million tonnes of salt are extracted here in evaporation basins, which covers 70 % of Turkey's needs.
The huge water area lies in the triangle between Ankara, Konya and Cappadocia. The size fluctuates seasonally. In spring, the whole basin fills up, in the course of summer the lake becomes smaller and smaller, and in autumn it disappears almost completely except for a small remnant. A white salt pan remains. In summer, salt-loving halobacteria thrive in the water, resulting in a reddish colour. Salt spheres 1-2 cm in diameter (halite oolites) form on the bottom.
It is not easy to get to the shore everywhere, we visit the eastern shore of the northern tip, a little north of Sereflikochisar. Right next to the main road is a souvenir and cosmetics shop called the "Salt Museum" and a tea house. You can wade to two chairs standing in the water as a photo motif. And afterwards, for a fee, you can wash your feet with fresh water. This is not to be scoffed at if you don't want to preserve your feet in a crust of salt.
---
Read on
The Formation of Mountains
The World of Mineral Deposits
Meke Gölü
Tuz Gölü
Cappadocia
Museums in Ankara and Antakya