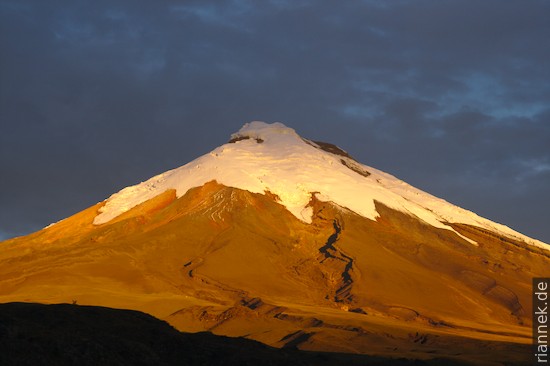 The perfect cone of Cotopaxi (see also my book The Formation of Mountains) with its ever-shrinking glacier is seldom visible, cloudy as it is at the moment. I got dropped off in the Cotopaxi National Park on the north side of the mountain, where there tends to be better weather, and caught the volcano for maybe 10 minutes with almost no clouds. While I was walking up the slope of the neighbouring Rumiñahui volcano, it shrouded itself again and barely 500 m below my little peak I turned back because there was no visibility up there anyway…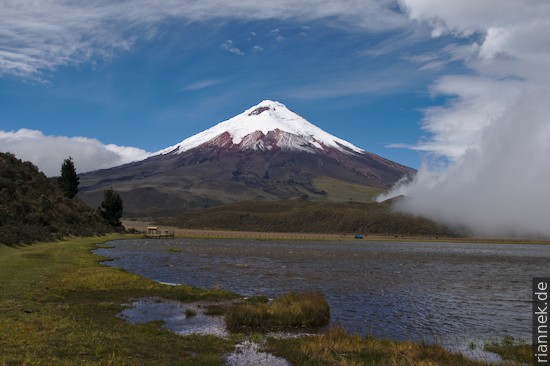 Later, I was sitting in the fog in front of my tent and just as I was about to light the stove, it cleared up. Instead of cooking, I walked up a hill and enjoyed the "Avenue of Volcanoes", as Humboldt called the highlands of Ecuador, with Cotopaxi on my side of the valley and Ilinizas and Chimborazo on the other. A little later, Cotopaxi started to glow red in the light of the setting sun.
The next morning I waited in the pouring rain to be picked up by my mountain guide, he arrived 2 hours late. At the mountain hut, the weather was immediately much better, perfect for an acclimatisation walk on the glacier. Nevertheless, I didn't sleep very well.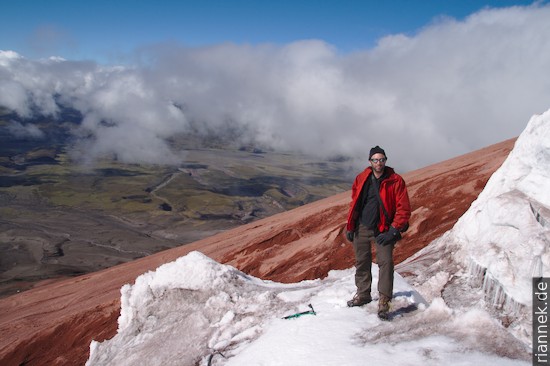 At 1 o'clock, an hour after everyone else, we set off in the glow of the headlamp and the moon. My mountain guide was a bit over-motivated and hardly allowed me any breaks because it was so cold. Halfway up, we overtook everyone else, but the further we got, the more tired my legs became and the faster my heart beat. Again and again I stopped like a stubborn donkey and each time the mountain guide tugged at the rope just like a donkey. Shortly after sunrise, we stood on the summit, at 5897 m. To be precise, I immediately sat down in the snow, groaning, without a glance at the crater or the neighbouring mountains (almost all of which were in cloud anyway). As soon as I had finished catching my breath and had taken a few pictures, we ran down again… In the morning, I threw myself into bed in Lacacunga and fell asleep.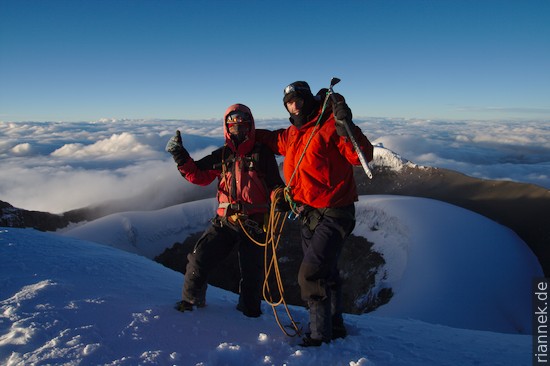 ---
Read on
Travelogue Andes 2010
Quito in the rain, caldera lakes and market in Otavalo
Laguna Quilotoa
Trekking at Chimborazo
Tungurahua and Baños
The Formation of Mountains