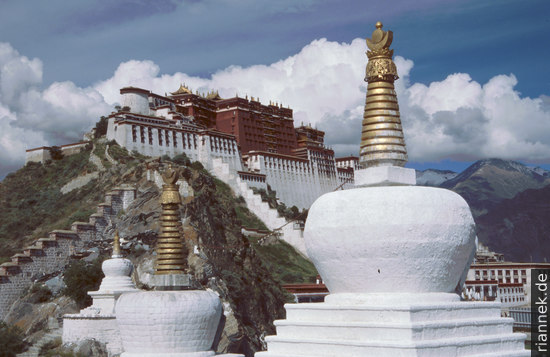 Pilgrims in dusty, baggy clothes walk clockwise around the Jokhang temple, swinging their prayer wheels. Some women wear several kilograms of turquoise and other stones in their hair that is braided into countless plaits; some men have red fabric in their long braids wound around their heads. The hat fashions are also fascinating. In front of the gate, they throw themselves on the ground countless times, with a horde of photographing tourists all around. Finally, inside, the queue winds through the individual chapels, yak butter (or cheap "Prayer Oil", available in handy plastic bags) is poured into the lamps, banknotes are slipped to the gods. The religiosity is almost frightening – and certainly reflects the harsh living conditions.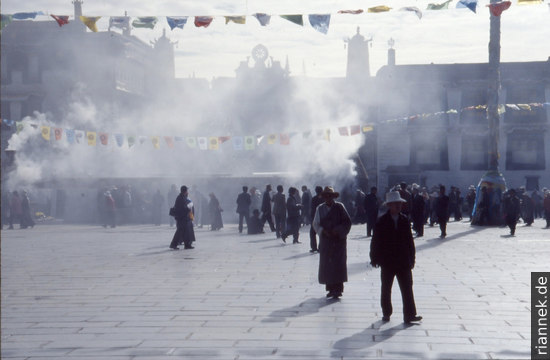 The Potala was the centre of religious and political power, and the vast quantities of art treasures made of gold and precious stones remind me at least that, contrary to the romantic ideas of many tourists, the Tibetan feudal regime was not exactly the most humane either.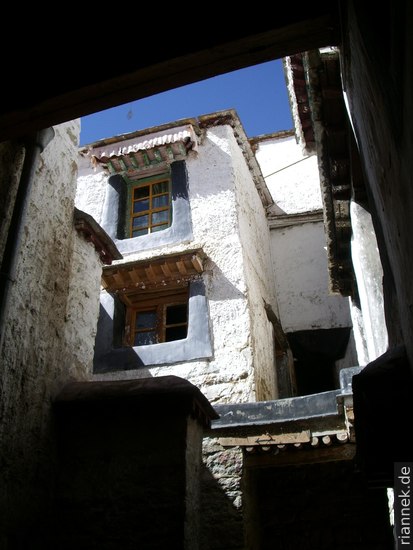 In the surrounding area there are still many large monasteries (e.g. Ganden and Samye), once inhabited by several thousand monks and thus actually cities: Drepung, for example, was the largest in the world with over 10,000 monks. Today, many of the buildings are empty and the tourists are almost as numerous as the inhabitants.
Otherwise, Lhasa is a Chinese city, with the skyscrapers and shopping malls like any other. A poster shows the Chinese vision of the future: motorways, bullet trains and the Potala in a forest of mirror glass facades.
---
Read on