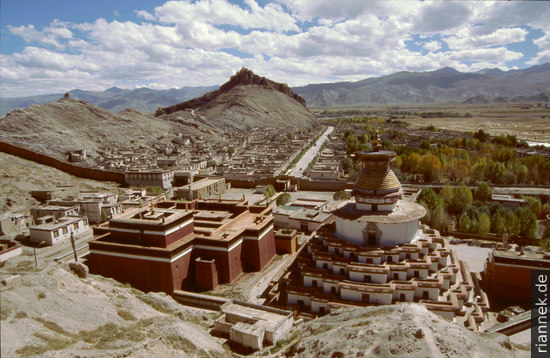 For the 1000 km (including detours) dirt road from Lhasa to Nepal, five of us organise a jeep for a one week trip. We pass the turquoise-blue lake Yamdrok Tso and drive over a high pass to Gyantse, where there is a beautiful temple built in the shape of a stupa. Here, too, many of the monks seem to prefer counting money…
In Shigatse (yet another temple) our driver (who doesn't speak English) should have got the permits, but because of the Chinese bank holidays the PSB is closed for a week, so no permits. They probably knew!
After a long drive through the wonderful brown mountains of Tibet, we have our first view of the Himalayas from a pass – even Chomolungma itself peeps out of the clouds now and then. The view is cloudless after a night in Everest Base Camp. On the way up there we have to change to a 4WD minibus (bizarre, as we had to pay entrance fee for our jeep). After a shock absorber went busts, the driver cleverly manages to break the axle while trying to drive the cart to the side of the road. Instead of waiting for another minibus like the others, I surf the last kilometres on the bumper of another minibus with fantastic views…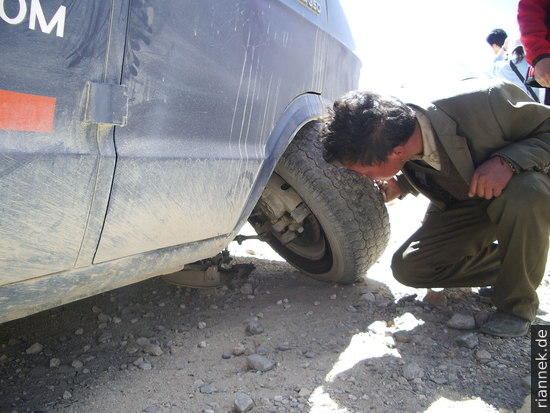 As we drive on, we are stopped and checked by a jeep – no, we don't have permits, please ask the driver! We are allowed to continue, but the driver's license is withheld. In the evening in Tingri, the driver somehow manages to fix the problem and get permits. Meanwhile, we enjoy the fantastic view of Chomolungma and all the other mountains. And the interesting atmosphere in the dusty village, surrounded by tents, gutted sheep hung out to dry by the roadside, Tibetans at the pool tables – I bet Tibet has the highest per capita density of pool tables in the world.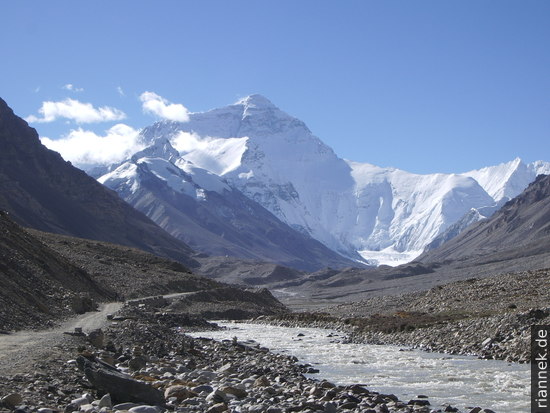 On the way, we are stopped by villagers armed with shovels and have to pay road toll. There are also an above-average number of begging children, they seem to learn the word "money" before "mummy"…
Eventually, the road descends from the Tibetan plateau into one of the deep valleys of the Himalayas. It becomes increasingly greener and finally we reach the border town, clinging to the escarpment along the narrow, unpaved hairpin curves. Countless Tata and Dong Feng trucks are loaded and unloaded, a hustle and bustle of people. The two border posts are 20 minutes apart by minibus, then we are suddenly in a completely different culture and atmosphere, back to South Asia. We find a jeep driver who takes us to Kathmandu.
---
Read on