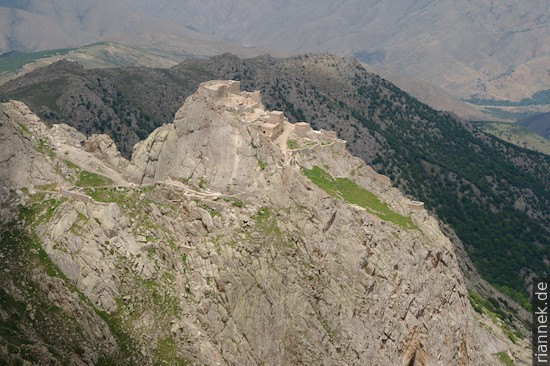 From the Caspian Sea we climb up into the mountains for the last time. Ardabil is situated on a plateau at the foot of the Sabalan volcano and has a beautiful mausoleum from the 14th century. Nearby, we relax in a thermal bath in the much too hot water.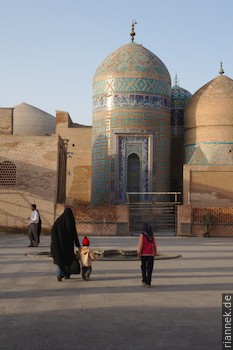 A good distance to the northwest, syenite rocks rise out of a dense oak forest. The Babak Fortress towers spectacularly above, emerging from the rising clouds in the course of the day.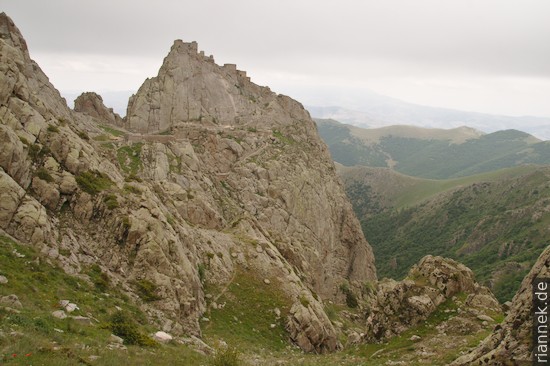 At the border we realise that we had miscounted the days and had been in Iran one day too long. How embarrassing! Fortunately, the border official turned a blind eye. On foot we crossed a rusty steel bridge, then we stand in a group in front of a closed barbed wire gate, because the border officials in Azerbaijan are taking their lunch break. We were hungry ourselves, and yet we had wait in the blazing sun. On the other side of the fence, two discarded omnibuses were parked, serving as offices. Finally the gate was opened by officials wearing huge peaked caps and we rushed into one of these buses, but then suddenly there was a problem with our visa. In fact, the entry was missing in which period the visa can be redeemed. Of course I thought the officials were hoping for a bakshish, but a border guard now took care of us ("don't worry guys, I will help you") and another hour later we are indeed finally allowed to enter. The border guards with their huge peaked caps waved us goodbye, "welcome to Azerbaijan". We took a taxi for the remaining 4 hours to Baku.
---
Read on
Backpacking trip Middle East and Caucasus 2008
Entering Iran
Tehran
Climbing Damavand
Caspian Riviera
Baku