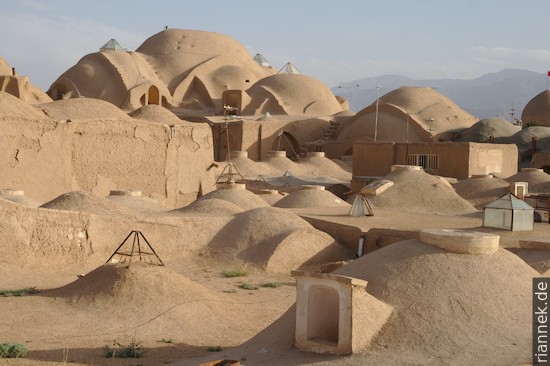 In the small city of Kashan we see a number of traditional houses from the 19th century; of course the houses of the rich: pomp and kitsch. You don't get to see the others (or they have long since been demolished). On the way back, after a tea in the bazaar, we are taken up to the roof of the bazaar for a good tip. At the top we walk past all the clay-plastered cupolas and domes, a bizarre landscape above the roofs of the city. At the other end, we found no stairs, but a ladder leading down one floor. Here there was a window through which we looked into a shop and lo and behold, there was a ladder. The shopkeeper was hardly taken aback by our appearance up there, but his female customers stared at us like a supernatural apparition.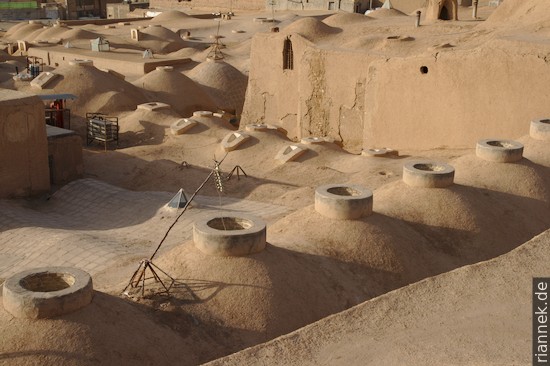 A short excursion takes us to a village called Abyaneh in the Kuhrud Mountains, a green valley behind which the brown cottages crowd up the slope as if stacked on top of each other.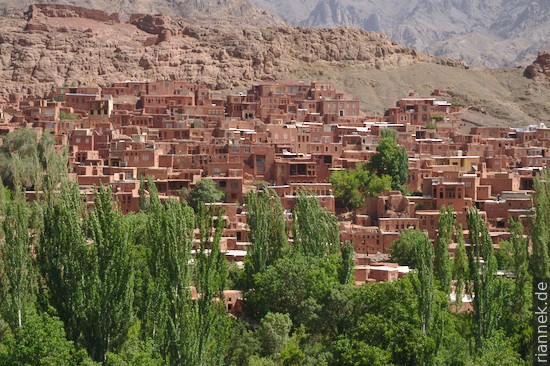 Qom is the most "qomservative" city in the country, all the hardcore mullahs come from here. As we are not allowed into the shrine as non-Muslims, we only stop by briefly. Nowhere else have we seen so many bearded men in wide caftans and turbans, while the women are all in black. From the most conservative city, we went straight on to the most liberal, to Tehran.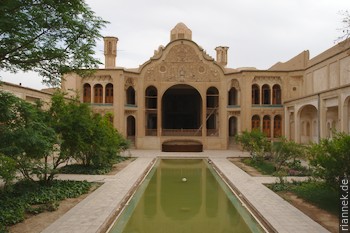 ---
Read on
Backpacking trip Middle East and Caucasus 2008
Persepolis and Shiraz
Yazd
Esfahan
Tehran