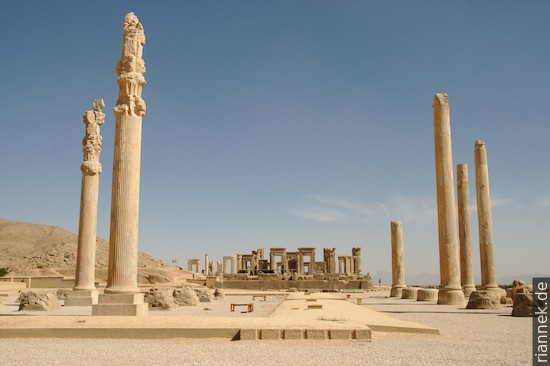 In a relatively short time, the ancient Persians established an empire that stretched from present-day Turkey to the Indus. As is well known, they knocked so hard on the Greeks' door that they invented the marathon after a fierce fight. Persepolis was the representative capital, whose sole purpose was to celebrate the greatness of the king: on the stairs leading up to the palace, reliefs show the emissaries of the subjugated tribes bringing tribute at the New Year. The city was burnt down by Alexander the Great, but the impressive ruins still give a glimpse of its splendour.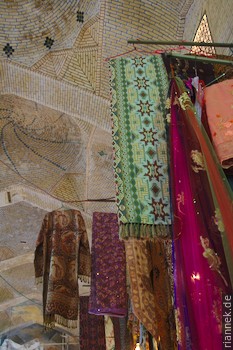 Shiraz, on the other hand, was rather disappointing. This 18th century residential city is known for its poets and was famous for its wine (which of course no longer exists). The guidebook made it palatable by rapturously describing parks and teahouses, only these teahouses simply no longer existed. Finished. Iran, what is wrong with your teahouse culture? I'm told that since the revolution, Iranians prefer to sit at home rather than in a teahouse. In general, the revolution has led to a flight into the private sphere, no wonder, in the streets you are under the omnipresent eyes of the effigies of two bearded gentlemen…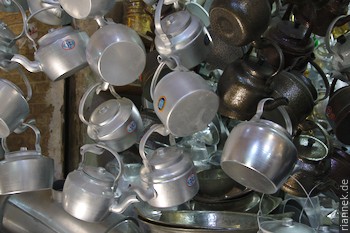 A rather bizarre experience, however, was a visit to the Martyrs' Mosque. First we were asked in amazement what we were doing here (oh, we are just tourists), then our backpacks were searched, then we were allowed in (no photos), accompanied. Everything looked a bit untidy. The courtyard of the mosque is covered with a fibreglass roof, the pillars of which look a bit out of place. The carpets were not lined up as usual. Every ten metres, a large hulking air conditioner stood on a rack, with washbasins and a handcart in between. A few soldiers with Kalashnikovs walk by. It looked here like just after a mass rally. However, I do not know which martyrs are being celebrated here.
From here we drive north, across the Zagros Mountains. Vegetationless mountain ranges, limestone laid in folds, between which there are always wide intramontane basins that are lush green at first, but become increasingly dry towards Yazd. Shortly before Yazd, the mountains tower above the road in spectacular cliffs, the highest peak here is over 4000 m high.
---
Read on
Backpacking trip Middle East and Caucasus 2008
Takht-e Soleiman
The Ziggurat of Choga Zanbil
Yazd
Esfahan
Kashan and Qom