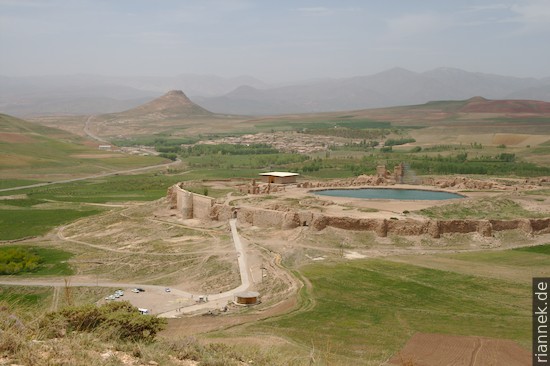 Amidst rolling green hills, almost like a crater lake, lies a deep, circular spring lake on a travertine hill that was built by the water (cf. The Formation of Mountains). In late antiquity, at the time of the Sassanid Empire, this was an important place for Zoroastrians. Around the lake, therefore, are the ruins of a fire temple and palaces. The hill is surrounded by a mighty wall from the Mongolian period.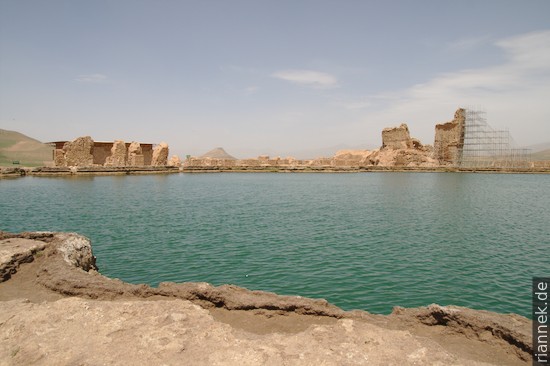 A few kilometres away, a 100 m high, steep travertine mountain rises conically from the wide valley, Zendan-e Soleiman (Solomon's prison). We climb up and gaze down the vertical walls of an 80 m deep crater. This too was once a spring lake that built up the entire mountain. However, cracks caused by earthquakes caused the lake to drain. There are other travertine hills in the area, all lined up along a line.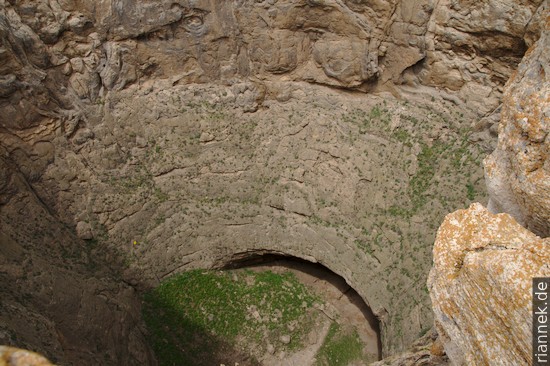 We drive on to Sanandaj in Kurdistan. Here, mainly older people wear traditional Kurdish clothes, the women colourful robes, the men wide trousers like tents. They have only been allowed to wear their traditional clothes again since the reforms by Kathami. With the suppression of Kurdish culture, the regime has not exactly made many friends here, as we are repeatedly told.
---
Read on
Backpacking trip Middle East and Caucasus 2008
Entering Iran
The Ziggurat of Choga Zanbil
Persepolis and Shiraz
Ardabil