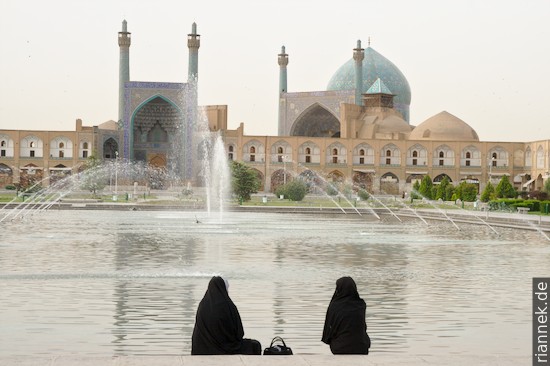 My hometown Freiburg has chosen the most beautiful one as its sister city. The parks and green boulevards, the river with its old bridges and the teahouses (they exist here) invite you to linger, very pleasant in the hustle and bustle of the streets of Iranian cities. A good place to stay for a few days. A great centre is the huge Iman Square (17th century) framed by arcades. On the terrace of a tea house we smoke a water pipe and let our eyes wander over the lively square, over the palace, over the two mosques… and then stroll through the covered bazaar to the Friday Mosque (Jameh Mosque).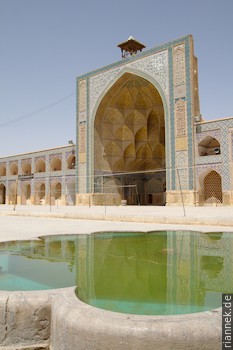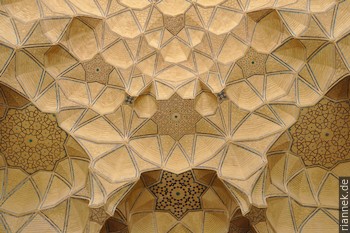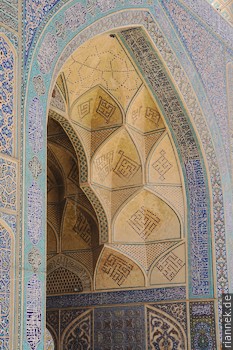 The mosques of Esfahan are probably the most impressive in the country. Typical are the iwans grouped around an inner courtyard, large square fronts in which half a dome leads inside. Behind the iwan in the direction of Mecca is a large onion-shaped dome. The buildings are made of brick, but the domes, portals, minarets and iwans are entirely decorated with tiles, often in turquoise and blue, with yellow floral patterns.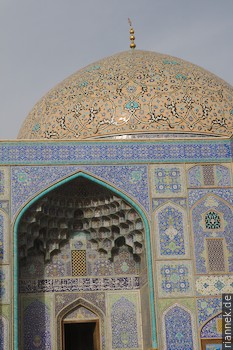 The Christian (Armenian) quarter is also interesting. The churches look like mosques from the outside, but the frescoes inside are unmistakable; the brutal depiction of the Last Judgement is particularly impressive.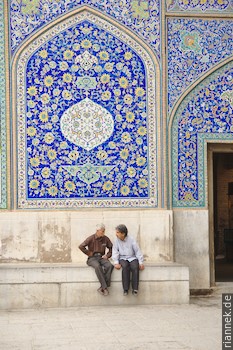 In the tea house under one of the old bridges we meet a group of rappers who show us their homemade music videos on their mobile phones. My question whether they are going to have a concert soon was a bit naïve, because of course such concerts are forbidden. Everything that is fun is forbidden, as one of them puts it.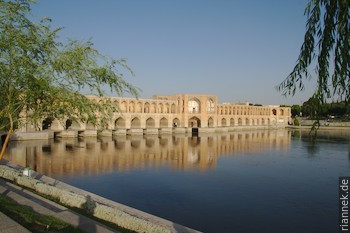 In Esfahan, however, we also realise that, despite the ban, alcohol does exist in this country. We drink grappa with some Iranians and four other tourists, mixed with non-alcoholic beer. At truck stops and in Tehran, we are told, the alcohol is just flowing. Cheers!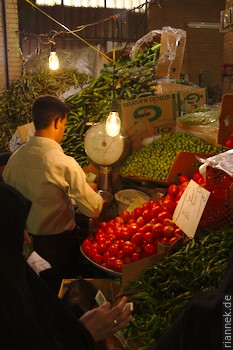 The three boys who invite us to talk to them on their balcony in a Koran school present a different picture. Despite all the talk of peace-loving Islam, they think the anti-Semite Ahmadinejad is quite good. Of course, in a Koran school one does not only study if one wants to become a preacher or Koranic scholar, but also a judge etc., after all, religion is the law.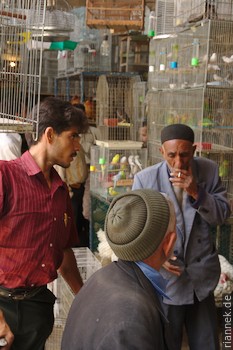 In Iranian city buses, women have to get in the back and are separated by a barrier. In intercity buses, on the other hand, they are not segregated.
We see a noticeable number of people with bandaged noses; it seems to be fashionable to have them fixed.
---
Read on
Backpacking trip Middle East and Caucasus 2008
Persepolis and Shiraz
Yazd
Kashan and Qom
Tehran