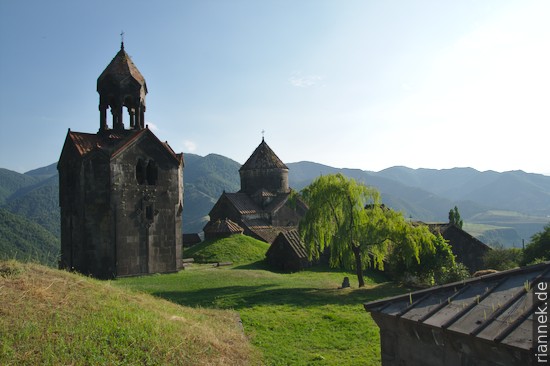 The drive from Yerevan to Lake Sevan already gives an idea of how disappointing Sevan will be. Stalls selling rubber tyres and swimming costumes line the route. Accordingly, the beach is full to bursting, with cars parked next to it with the stereo turned up, and everything is damn expensive. The two little churches that stand on a hill at the end of the beach are also not that impressive… Maybe I should have explored the more secluded areas of the lake.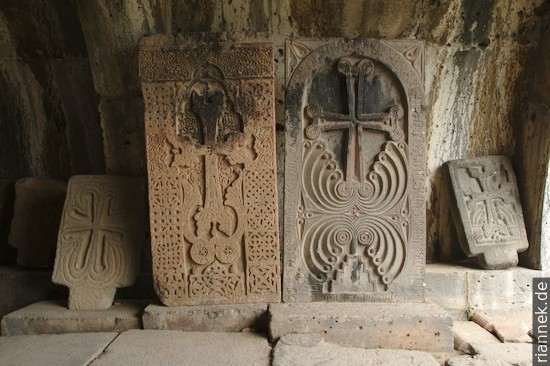 A little further on is Dilijan, a mountain town with meadows, forested mountains and Soviet architecture. And two more monasteries…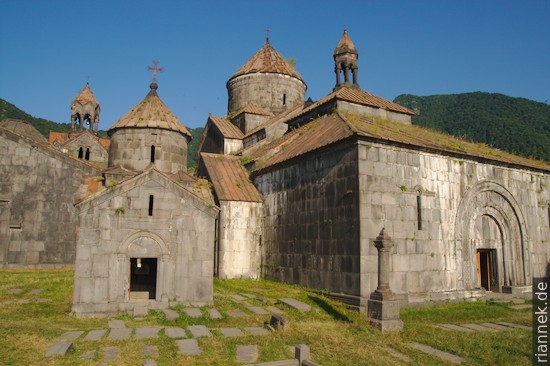 Shortly before the Georgian border, I come to another highlight: the monasteries of Sanahin and Haghpat, situated on the edge of the Debed Canyon, where the mining town of Alaverdi smokes away deep below. Armenian churches are often built on a Greek cross as a ground plan, with a conical roof over the dome of the crossing. In front of this is usually an attached bell tower or an antechurch with a wide, #-shaped vault and a floor of tombstones. Inside, the churches are plain and gloomy, with faded frescoes rarely preserved. Both Sanahin and Haghpat have several churches, a library, refectory and other buildings, around which stand khachkars, ornately carved cross stones. Haghpat, with its interlocking roofs and domes is probably the most beautiful of Armenia's monasteries. The gloomy interior and the smell of bird shit remind me strangely of Indian temples.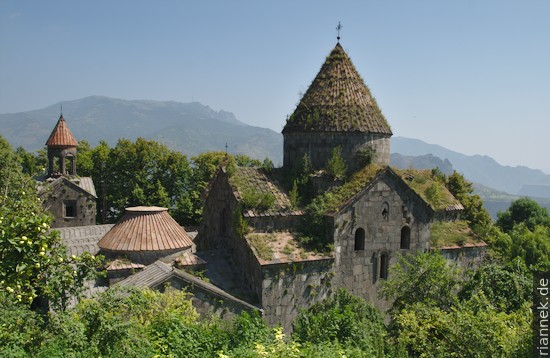 Down in the valley in Alaverdi is a curved medieval bridge with four stone lions sitting on the railing. When a real man crosses the bridge, they say, they come alive. So have there been no real men in Armenia for centuries? I am not surprised that they remain still even with me. However, I don't think they look like lions. Almost more like frogs. Maybe there is something wrong in the story, and they need to be kissed awake in reality? But that didn't work either…
---
Read on
Backpacking trip Middle East and Caucasus 2008
Yerevan
Tatev and Noravank
Tbilisi and around