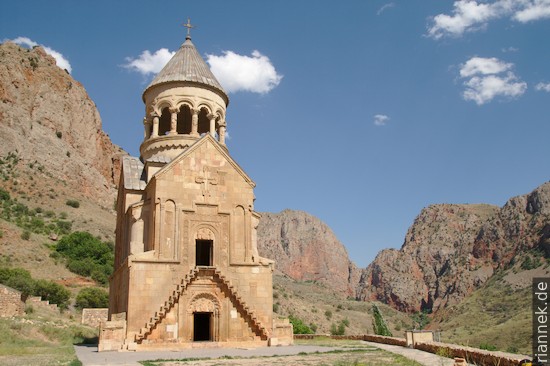 On the edge of a gorge in the mountains in the south of the country, the walled monastery of Tatev clings like an eagle's nest on a small platform of basalt columns. Behind the gorge with its steep forests and high limestone cliffs, the view stretches all the way to the mountains of Karabakh. Too good to be true? Indeed. To soften the whole thing a little, there is a rusty construction crane next to the church and almost over the monastery are the whirring wires of several high-voltage power lines, which inevitably hang through your field of vision.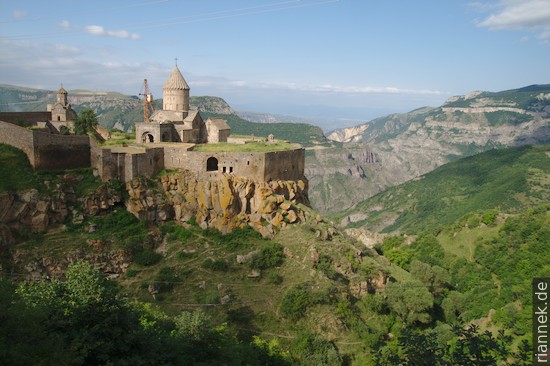 Down in the depths, where the gorge is narrowest, the road leads over Satan's Bridge. Mineral water flowing out of the slope has deposited so much calcareous sinter here that a 30 m wide natural bridge has formed. A ladder leads down to the river, where you can bathe in the mineral water in small grottos full of stalactites in natural pools. Swimming, I follow the river through the tunnel. The gorge downstream is pathless at first, I walk over scree, through undergrowth or wade through the water. Countless dragonflies buzz around, grass-green frogs jump for their lives. There are pools here, too, from which mineral water and gas emerge, but they look less appetizing, black-brown, full of algae. Soon I come to a path, less arduously I follow it to the overgrown ruin of a monastery.
Goris, from where the road branches off towards Nagorny Karabakh, looks like a tiny piece of Cappadocia that got lost here.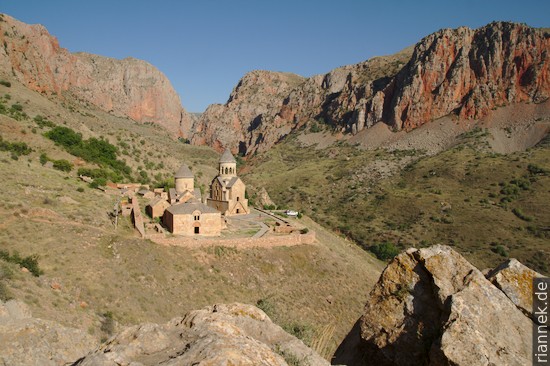 Noravank is another monastery, beautifully situated in a gorge with red rock walls. As the hotel in the next town was locked and barred (I hear later that I should have taken the back door), I enjoy how the light of the low sun illuminates the playful façade of the church and the rocks of the gorge and then unroll my sleeping bag somewhere in the gorge. I didn't sleep very well, however, especially the rustling and rumbling, which in the morning turns out to be chamois, keeps pulling me out of my not exactly deep sleep.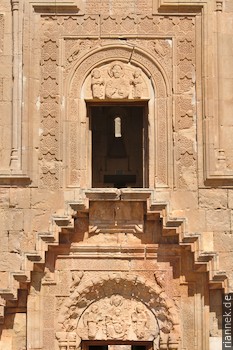 ---
Read on
Backpacking trip Middle East and Caucasus 2008
Yerevan
Nagorno Karabakh
Haghpat and Sanahin