Tbilisi is as European as an Asian city can get. The city centre is full of hip cafés and bars, wide tree-lined avenues, there is excellent stencil graffiti and plenty of churches. But the cows in the middle of a roundabout and the relaxing hamam-style thermal baths are Asian again. Europe or Asia? For Georgians, it's clearly Europe, presumably according to a cultural definition. I always thought the main chain of the Caucasus was the border between the two continents, so it would be Asia. The suture of the Tethys runs through the Lesser Caucasus, but it separates Eurasia from Gondwana, geologically it makes little sense to divide Eurasia.
Anyway, the city was destroyed from time to time by Mongols or Persians, so hardly any building is older than 200 years.
A Georgian Orthodox service seems quite chaotic to a layman like me. The church bursting with worshippers of all ages, but mostly women, mostly wearing headscarves. People come and go, chatting and whispering, even using their mobile phones from time to time. Some light candles or kiss an icon. When the choir sings, it gets a little quieter for a moment. Once everything starts to move, two priests stand in the middle of the congregation and brush a cross on the forehead of the people in line. Incense is waved. Otherwise there is not much to see of the priests, now and then one appears in the doorway of the iconostasis, but most of the time he turns his back to the audience. Occasionally he comes out for a few seconds, everyone crosses themselves and then he is gone again. The whole thing seems to go on forever, but all of a sudden it is over; the door is closed and a curtain is pushed into the gap above. As is to be expected, when the curtain falls, there is no applause. And yet a full house is expected again at the next performance.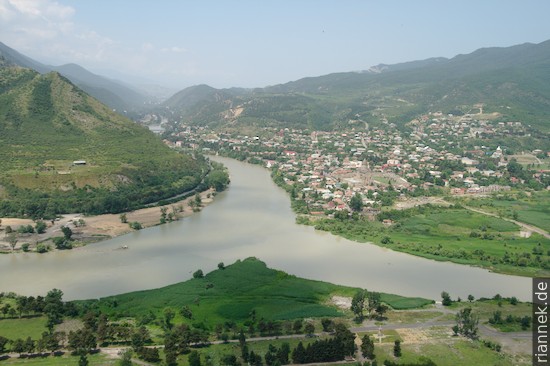 The area around Tbilisi has a lot to offer. Mtskheta is beautifully situated at the confluence of two rivers and is a kind of spiritual centre for the Georgian Orthodox. After all, it is said that the incarnate robe of Jesus lies beneath the local cathedral from the 11th century. All the churches in the capital pale in comparison.
Shortly before the border with Azerbaijan, the Davit Gareja monastery and several cave monasteries are located in a hilly steppe landscape. Despite its isolated location, it was one of the most important religious sites in the country for centuries.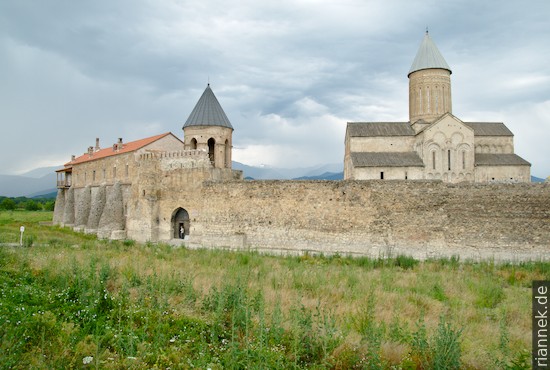 Wine is said to have been invented in Georgia 7000 years ago, so I can't help but visit a winery near Telavi and taste a few drops. And around Telavi there is not only wine, but also old churches in abundance…
---
Read on
Backpacking trip Middle East and Caucasus 2008
Kazbegi
Gori
Svaneti
Start of war
Borjomi and Vardzia
Haghpat and Sanahin
Lahiç and Şeki
Trekking in Tusheti