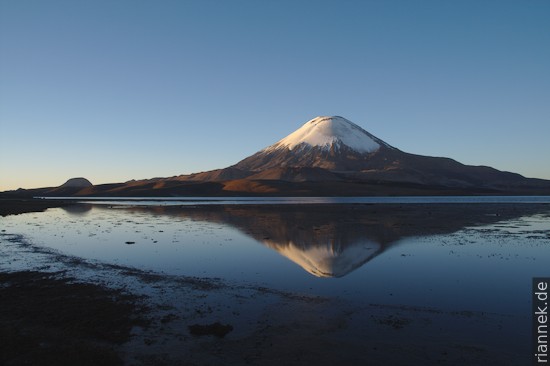 On National Day of all days, I set off for Sajama, an extinct volcano in the Western Cordillera and the highest peak in Bolivia. In El Alto, the bus got stuck for an hour, an endless parade marched in front of us on the main road. So I got a little late to the town where I had to change to another bus, but because of the holiday it wasn't running anyway. Luckily for me, there were a few other tourists with the same destination, and we were able to charter a collectivo that was about to drive half the distance to the village of Sajama. On the way, we passed through villages whose inhabitants were dancing in the plaza in their best clothes. The village of Sajama itself is beautifully situated, with Sajama the mountain on one side and the two stratovolcanos Parinacota and Pomerape on the other, and a pretty old adobe church. Here I wanted to hire a mountain guide, but because of the holiday no one was available, not even porters or donkey drivers to get to the base camp. Everyone was already drunk.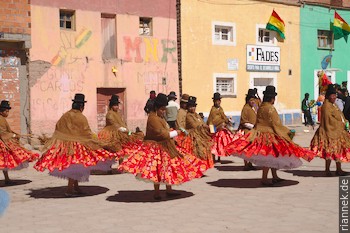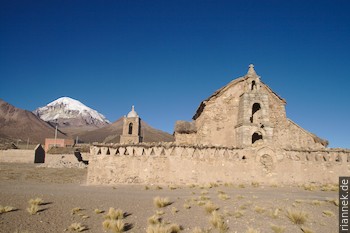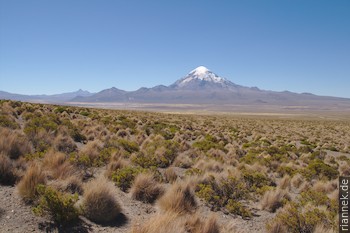 For better or worse, I set off with a Spanish climber without a guide. In one day we climbed straight up to High Camp, picking our way up a steep, endless scree slope with heavy backpacks. At over 5600 m, we pitched the tent and started melting ice for the next day. A couple of porters making their way down worriedly told us that two people were still up there. During the night we were really worried and at first we were happy that finally the light of a lamp came closer. However, only one came and asked us for the phone number of the mountain rescue; a bit naïve, because firstly, that doesn't really exist in Bolivia and secondly, there was no connection up there. His colleague was still sitting up there, altitude sick and unable to take a step! After some deliberation, we sent the healthy one down for help and set off at 4 o'clock to at least get the sick one down to High Camp. The poor guy was in such bad shape by now that he couldn't even stand up without help! This was going to be an exhausting and long operation, with a mixture of carrying and propping and abseiling and climbing back up to get the rucksacks…. on a rocky ridge and then down a steep ice gully. At noon we arrived at the high camp and at the same time from below a large group of guides and porters took over the sick. Now we all descended together at a snail's pace, as the two of us did not have enough food for a second night, we could not make a second attempt. Two hours after sunset we reached the waiting jeeps….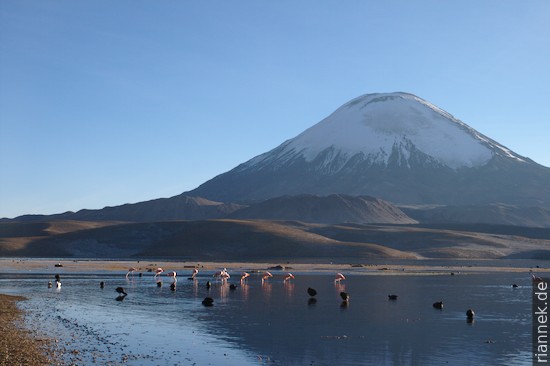 I set off from Sajama to Lauca National Park, which directly borders Sajama National Park on the Chilean side: by taxi to the Bolivian border post, then in a truck to the Chilean one (there is hardly any traffic on the road!) and from there on foot. The highway runs along the shore of Lago Chungara, where a few flamingos and other birds strut around and the perfect, glaciated volcanic cone Parinacota towers above its other shore. After a night in the national park's refugio, I march on along the road, a rather boring stretch at times, before the Lagunas Cotacotani come into view: a landscape of small lakes in a hilly lava field, with Parinacota and Pomerape behind. I was now walking along a jeep track, with great views, and finally let myself be lured into the aberration of the block lava field by an arrow with "Parinacota" (the village) written on it. The path got lost over time and I slowly wandered up and down, back and forth for 5 km, arriving in the village completely exhausted just as the sun was setting. Conclusion: Lauca better with a car.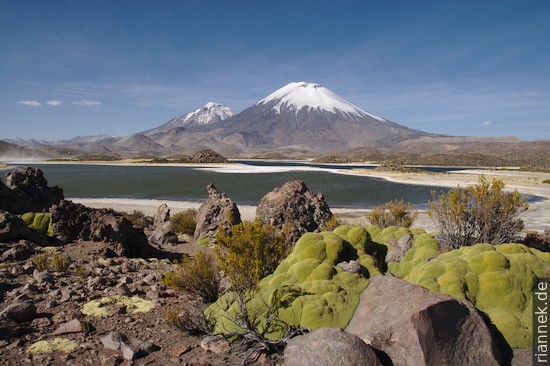 The next day I stood on the highway for 3 hours waiting for a bus to La Paz ("between 11 and 14 h" I was told, and it arrived at 14 h). It was cloudy and cold without sun, and there was an icy wind that was getting stronger. For 3 hours I walked in small steps around my backpack…. I think Lauca rather with a car….
Read on
The Formation of Mountains
Travelogue Andes 2010
La Paz
Sajama and Lauca
Ascent of the Illimani
From Uyuni to San Pedro and ascent of Licancabur
San Pedro de Atacama