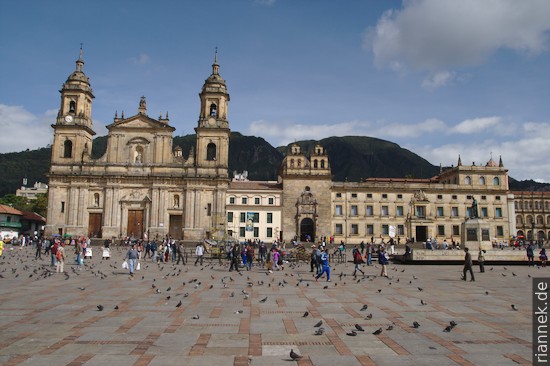 After a sip of hot chocolate, I bite into a piece of cheese, which in Colombia simply goes with chocolate. I am sitting in a small café in the old town of Bogotá, with its colourful colonial houses and baroque churches against the steep slopes of the Cordillera Oriental. The city offers excellent museums. Besides the Botero Museum full of fat people painted in oils, the Gold Museum is especially worth mentioning, an impressive treasure of pre-Columbian art. Unlike the gold museum in Lima, this one is excellently labelled, so one is not only overwhelmed by the wealth, but learns a lot about the cultures and their symbols, their metalworking, about the gold-copper alloy tumbaga and so on.
Unmissable is the strike of the students at the Universidad Nacional against the planned partial privatisation, which joins the current protests from Chile to Mexico.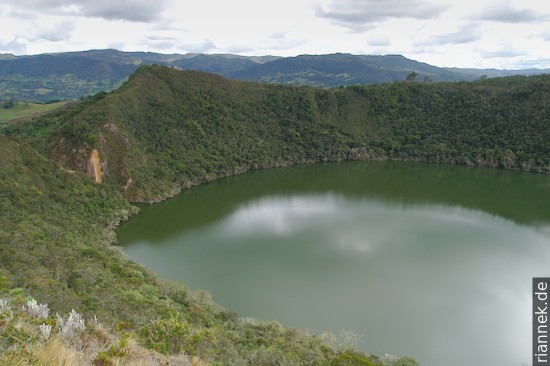 Near the city we visit the circular Laguna Guatavita. It was an important sanctuary for local cultures. In search of El Dorado, the greedy Spaniards dug a deep trench to drain some of the water, but they found less gold than expected. How the lake was formed is not yet clear, the most popular theory being the impact of a meteorite. Unfortunately, the lake can only be visited with a guide, so it won't be long before it becomes a terrible tourist trap.
---
Read on
San Agustín
Valle de Cocora
Amazonas Cruise
Quito in the rain, caldera lakes and market in Otavalo