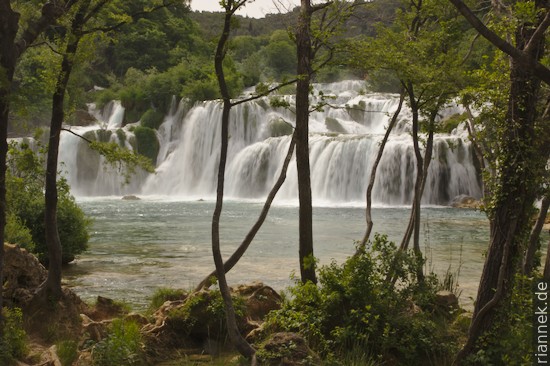 The waterfalls in Krka National Park have a similar geological background to the Plitvice Lakes, but are not nearly as beautiful. This is partly because they are not so close together, and partly because there are so many buildings around. The largest fall, Skradinski Buk, is close to the motorway and has a correspondingly large number of visitors.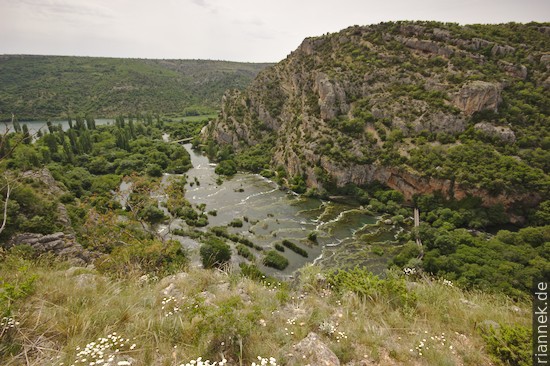 Roški slap is also pretty, consisting in particular of an area with many mini-steps. It is worth going up the steps to the cave, not so much for the cave itself, but mainly for the view. To get here, however, you have to cruise a good distance along country roads, with a stop for the Visovac monastery, nicely situated on an island in a lake. Alternatively, you can visit both on a boat trip from Skradinski Buk.
Further south on the coast is Trogir, with a very pretty old town, an interesting cathedral, thick walls and winding streets. Our guidebook makes it sound like a village, but there is also a shipyard in this town and every now and then a plane thunders overhead on its approach to Split.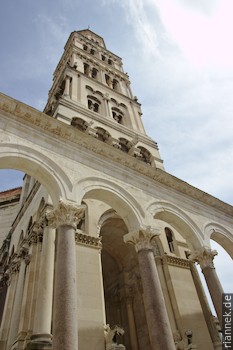 At the excavations in Solin, a suburb of Split, the most interesting thing is the strange mixture of Roman foundation walls, overgrown gardens and the background of industrial plants and high-rise buildings.
Split's city centre, on the other hand, is very convincing. A good part of it is made up of the remains of a large palace built by the Roman emperor Diocletian for his last years. Later, the inhabitants of Split simply used the mighty walls as city walls, converted the mausoleum into a cathedral and built houses and alleys.
---
Read on
Plitvice Lakes
Modro Jezero (Blue Lake) and Crveno Jezero (Red Lake)
Velebit