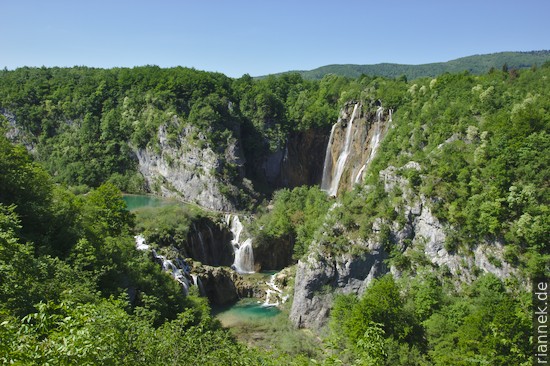 When water is supersaturated in calcium carbonate, limestone sinter is precipitated — a simple phenomenon that can form fascinating formations (cf. The Formation of Mountains), Plitvice Lakes being one of the absolute highlights. The solubility of calcium carbonate is closely related to the amount of CO2 dissolved in the water (which, as carbonic acid, forms a weak acid and increases carbonate solubility). The solubility of CO2 in water is in turn related to pressure and temperature. Precipitation of limestone sinter occurs especially where CO2 is degassed from the water and therefore the solubility of calcium carbonate is reduced.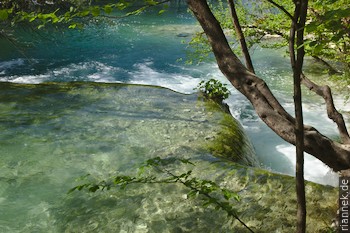 This is particularly the case where water flows quickly, whereby plants can also extract CO2 from the water. In this way, veritable dams have formed over which waterfalls rush, which of course increases precipitation even more.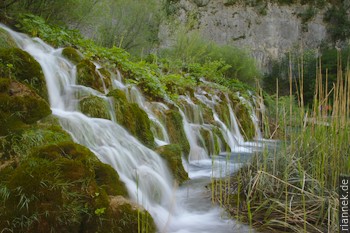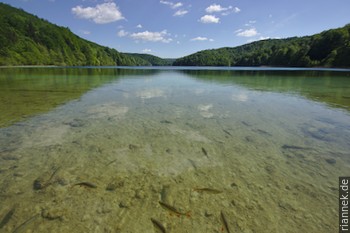 The Plitvice Lakes are 16 large and many small lakes, in between the natural dams with waterfalls that are sometimes only a few decimetres, then again several metres high. It is definitely worth spending a day hiking around the various viewpoints here, and parts of the route can be covered by boat and a tourist train. However, you are not completely alone at this natural sight.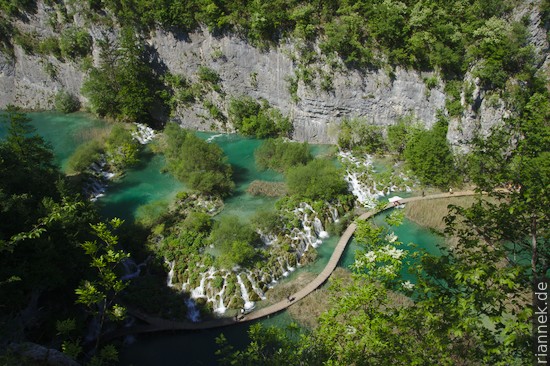 ---
Read on
Velebit
Bijele Stijene
Krka, Trogir, and Split
Modro Jezero (Blue Lake) and Crveno Jezero (Red Lake)
Istria
The Formation of Mountains