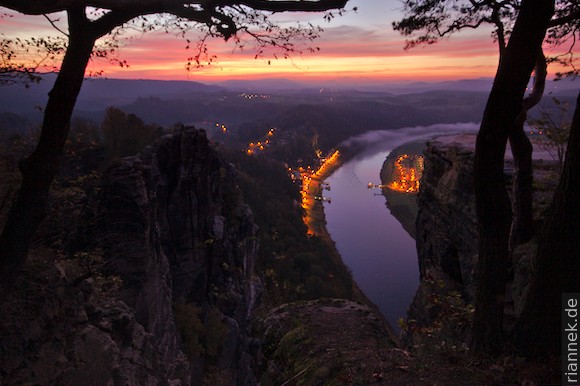 Dawn at the Bastei, a Saturday in autumn with good weather. After a hurried ascent with a headlamp, I notice that the viewpoints are already populated by photographers. And it's getting more and more crowded, the tripods are set up tightly packed, some wait patiently in the second row until someone moves on.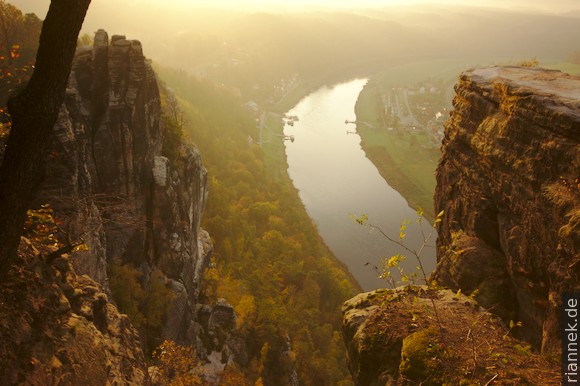 At the most famous viewpoint, the Ferdinandaussicht, there is a long queue with long waiting times. And just as the light becomes less golden and I leave the Bastei, the first tour bus drives by…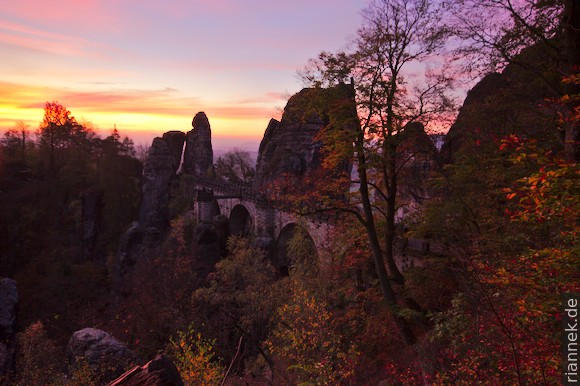 Nevertheless, it was worth being here again. For the first time at sunrise, for the first time in autumn.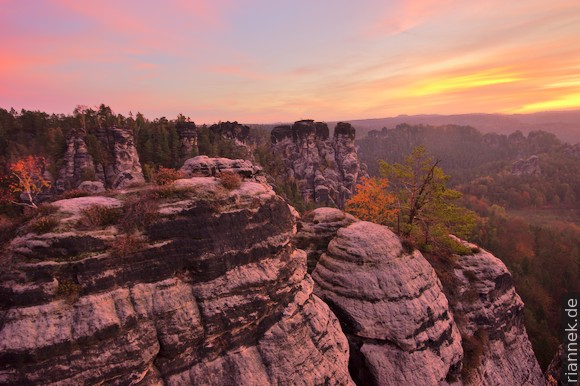 I descend through the Schwedenlöcher and have breakfast in Rathen. Then I cross the Elbe and climb to the Rauenstein, where there are also some nice views (unfortunately not of the Elbe).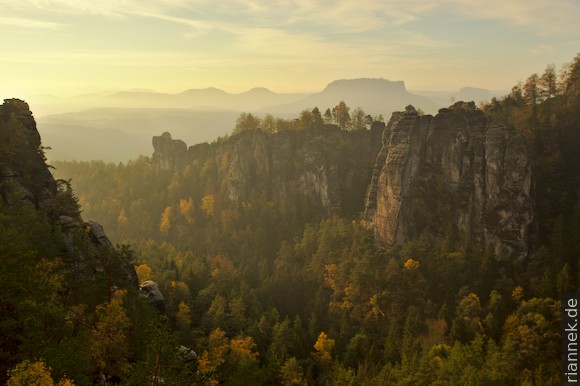 I continue on the Malerweg to Königsstein (a stage that was still missing for me, 10 years ago I gave up on this long-distance trail in Königsstein because of rainy weather). I also visit Königsstein Fortress, where not only the fortifications are interesting, there is also a magnificent view of the loop of the Elbe around the table mountain Lilienstein. I had already been to the Lilienstein the day before, and there was a nice view too, but somehow I expected more.
On Sunday morning I actually wanted to be at Carolafelsen for sunrise, but unfortunately the first S-Bahn to Schmilka leaves very late on Sundays (and due to the time change I was even later). I walk along the beautiful path along the ridge via Breite Kluft to the Schrammsteinaussicht, descend through the Wilde Hölle, up again to the Carolafelsen and down the Heilige Stiege. At the bottom, the rain starts.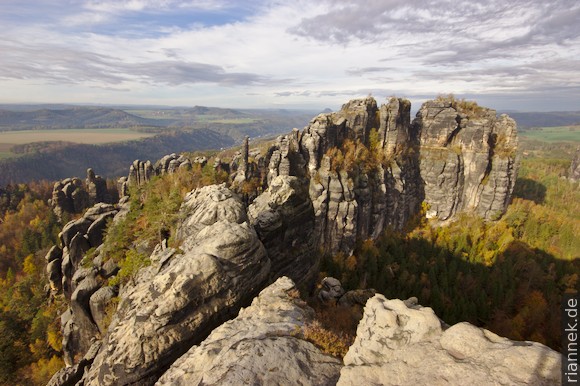 ---
Read on
Hiking the Malerweg through Saxon Switzerland
At the Prebisch Gate (Pravčická brána) in Bohemian Switzerland