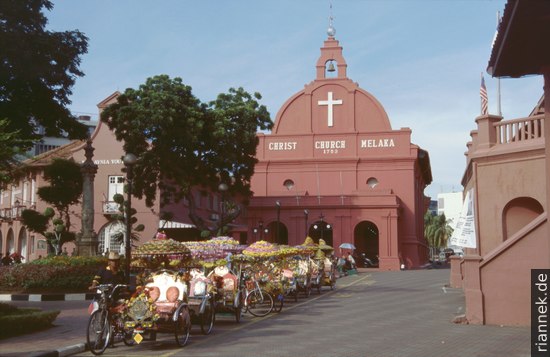 In the late Middle Ages, Melakka was the most important port for trade between China and India and the Arab world. Sheltered, it was an ideal place to wait for the change between southwest and northeast monsoons and thus ideal winds. The resulting wealth then attracted the Portuguese who, with their monopoly, slowly ran down the conquered city while Asian traders moved on to other ports. Then came the Dutch, who, however, placed more value on their Batavia (Jakarta). And finally, to prevent a takeover by Napoleon, the British, for whom Pinang and Singapore were more important.
There are a number of Dutch colonial buildings to see here and, much larger, the interesting Chinatown, including a Chinese temple from the early 17th century.
The population in Malaysia is a mix of Malay, Chinese and Indian, not forgetting the indigenous Orang Asli and ex-colonialists.
---
Read on