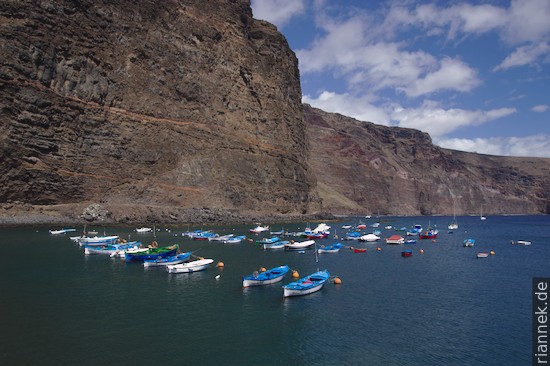 La Gomera is completely different from its neighbouring islands. While La Palma and El Hierro are active shield volcanoes and on Tenerife the stratovolcano Teide has built up over older shield volcanoes, La Gomera has not been active for a long time; there has not been a single eruption in the entire Quaternary. This is astonishing because supposedly the hotspot is directly to the west, feeding the volcanoes of La Palma and El Hierro, a good argument by the doubters of the hotspot theory (which I wrote about in the Tenerife article, see also my book The Formation of Mountains).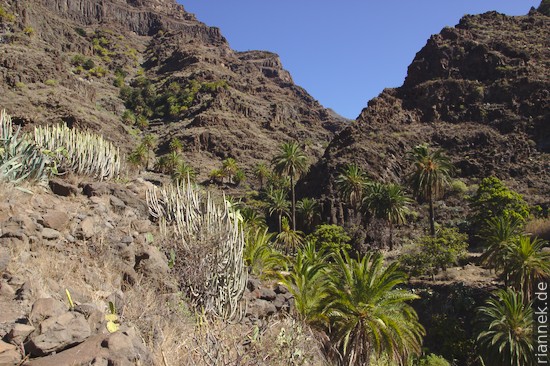 In any case, the island is a heavily eroded shield volcano, a prime example of the fate that an island formed by a hotspot undergoes after its most active phase. Deep valleys have been incised radially, with old lava flows visible in the rock walls. While palms, cacti and bushes grow in the valleys, the steep slopes are relatively bare.
The centre of the island around the highest peak, Garajonay, has a completely different appearance. The slopes are relatively flat, almost like a plateau, and covered by a dense forest. This laurel forest with its subtropical species is a "living fossil", so to speak; similar forests existed in Europe before the ice ages.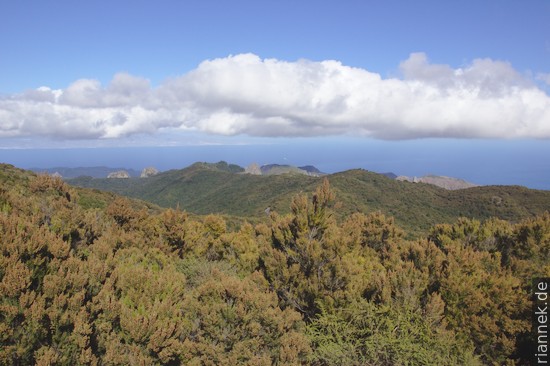 The forest is exactly at the elevation of the clouds that are driven over the island by the trade winds. The moisture condenses on the plants and thus provides the necessary water in a place where there is hardly any rainfall. However, on my hike through this cloud forest, of all places, I caught the first cloud-free day of the entire trip…
The reason for the plateau is a thick package of horizontal lava flows that make up the centre of the island. These have flowed out inside a caldera which they have filled up. They are thus among the youngest units on the island.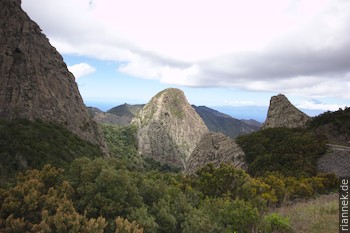 As a geologist, I was most taken with the rocks around the Roque de Ojila viewpoint. The dome-shaped rocks are phonolite intrusions that have been exposed by erosion.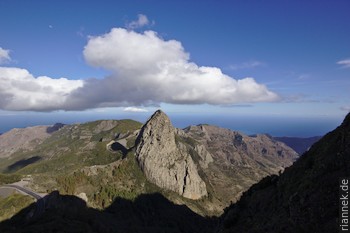 You can easily imagine how the magma rose and got stuck just below the earth's surface. The most beautiful, Roque de Agando, reminds me very much of the rock behind the Inca city of Machu Picchu.
---
Read on
Tenerife
Traverse of Teide and Pico Viejo
La Palma: Hiking Ruta de los Volcanes and Ruta de la Cresteria (GR 131)
The Formation of Mountains