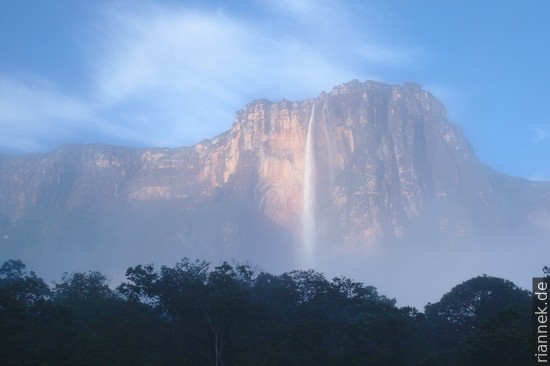 There is no higher waterfall: with 807 m of free fall, the Salto Angel is by far the highest waterfall in the world (together with the lower cascades, the height adds up to almost a kilometre). From the perspective of the mirador directly below, however, one hardly notices this height.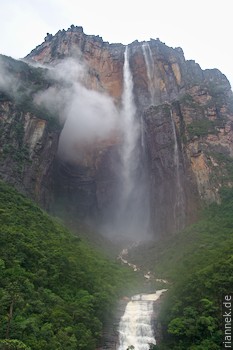 When the fog lifted the next morning and the fall could also be seen from the river, I found the view from here almost more impressive, despite the light veil of mist. It almost looks as if the fall is plunging down from the highest point of the Tepui.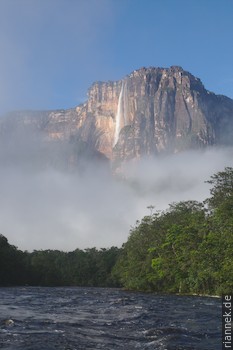 Reaching the waterfall is already an adventure in itself. First we fly in a five-seater Cessna from Ciudad Bolivar to Camaina.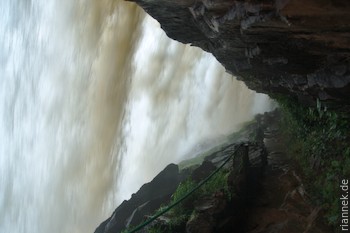 Here the Rio Carrao fans out into several courses, each of which cascades over a rock face. At one of these waterfalls, the Salto Sapo, a path leads like a tunnel between the thundering wall of water and the overhanging rock, where you get soaking wet.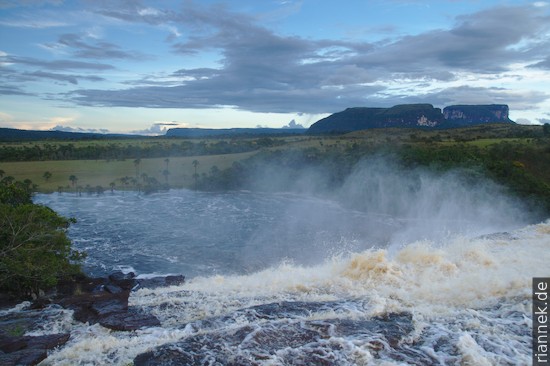 From Camaina we go upstream in a boat for four hours. On this day, there is not much to see of the rock walls of the Tepui: It rains so hard that the rain can hardly be distinguished from the water sloshing into the boat in rapids. Fortunately, the weather was better the following day, so we could admire the landscape on the way back.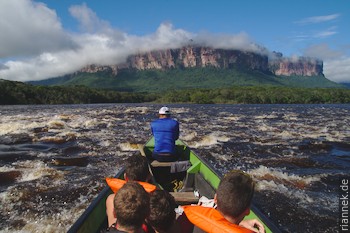 Unfortunately, we had the worst guide imaginable. He shooed us around in a commando tone, but otherwise didn't have much to say. After he called one of our group, who was a few minutes late at the boat, "shithead", we just ignored his commands…. On top of that, we had less time at Salto Angel when we had to wait at the airfield to be picked up. So I'm not sure whether in this case my enthusiasm about the landscape or my dislike of rushed tours prevails.
---
Read on
The Formation of Mountains
Roraima Tepui
Amazonas Cruise
Iguazú Falls