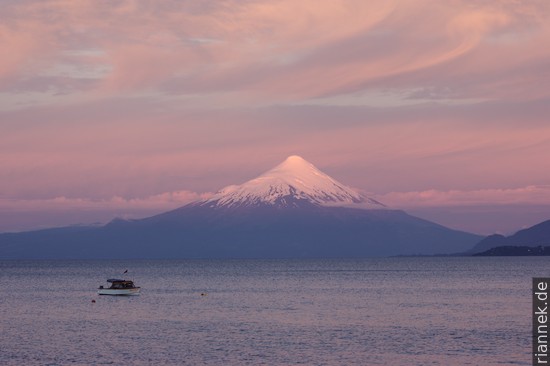 The lake district with its green fields, dense rainforests, countless lakes of all sizes and towering volcanoes and mountain peaks (cf. The Formation of Mountains) is, so to speak, the southern end of civilisation in South America: a little further on, the sparsely populated wilderness of Patagonia begins.
I fly to Puerto Montt and drive to the pretty lakeside town of Puerto Varas. Across the lake, the perfect volcanic cone of Osorno, largely covered by a glacier as if with sugar icing. Actually, I wanted to go to the summit, but the steep price of the mountain guides makes me change my mind. All that remains is a longing look across the lake …
From Petrohue, which lies at the foot of the volcano on the shore of another lake, I hike up to the Paso de la Desolacion. Especially in the middle part of the hike the views are very beautiful, then it is a bit monotonous to walk over a plateau. The view to the other side from the pass itself is a bit disappointing, so I climb up to the neighbouring ridge, from which at least there is a bit more to see. On the way back to Puerto Varas, I stop at the Saltos del Petrohue waterfall. The most beautiful thing is the volcano in the background … Finally, I just catch the last bus back.
---
Read on
Patagonia
The Formation of Mountains
Puyehue
Villarrica and Huerquenes
Conguillio National Park and climbing Llaima
Bariloche
Perito Moreno National Park and trek to Cerro San Lorenzo