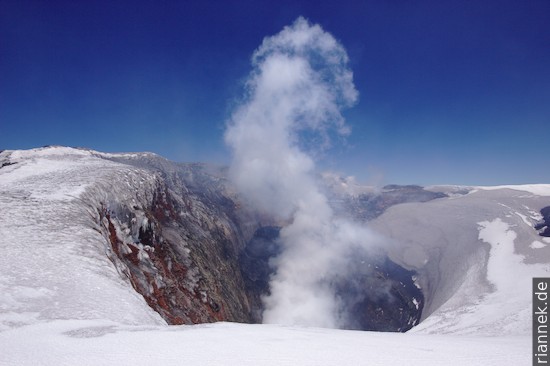 From the tourist town of Pucon, I get involved in the circus at Villarrica Volcano: in a group with guides, we climb at a snail's pace over snow to the summit, as part of an endlessly long ant trail. The view from the top is definitely worth it. The special thing is that the vent is open, somewhere down there in the vertical abyss, from which toxic clouds emerge, the liquid magma is billowing (cf. The Formation of Mountains). Activity is low at the moment, at other times you could even see lava spurting up. The guides tell me about the adventurous actions volcanologists have used to take gas samples here …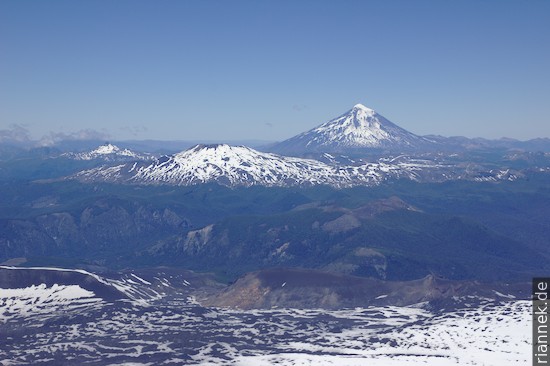 The view is also impressive in other respects. To the north, the volcano Llaima can be seen throughout the ascent. To the east, you can see two volcanoes, the relatively flat Quetrupillan and behind it the high cone of Lanin. And to the south, El Mocho and Choshuenco are stuck in the clouds, which I have already seen from Puyehue.
The descent is a little unconventional: we strap nylon to our butts, sit on a spoon-shaped piece of plastic and slide down the slope in a veritable bobsleigh track.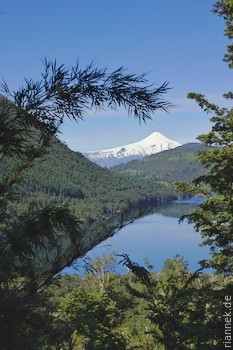 As a day trip, I have already hiked through the Huerquenes National Park, from where Villarica can be seen again and again. The path winds its way from lake to lake, the initially dense forest becomes lighter towards the top and more and more of the strange Araucaria mingle with the trees. These "living fossils" really look like from another time.
---
Read on
Patagonia
The Formation of Mountains
Puerto Varas in the Lake District of Chile
Puyehue
Conguillio National Park and climbing Llaima
Bariloche