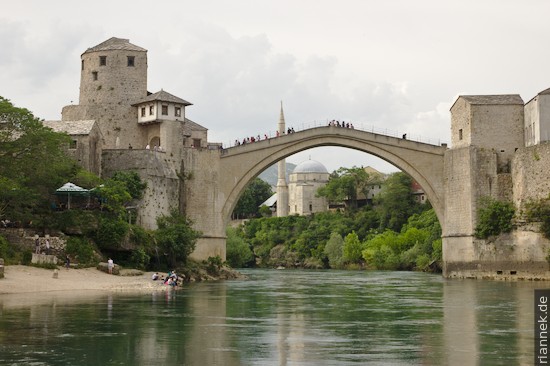 In Bosnia and Herzegovina, the bloody past can still be felt. It is noticeable, for example, that the national flag can only be seen in certain (Bosnian) parts of the country, while in other regions either the Croatian or Serbian flag flies. The road signs are double-spaced in Cyrillic and Latin script, but depending on the region, either one or the other is rendered illegible with spray paint.
In Mostar, the famous bridge and parts of the old town have been rebuilt, but as soon as you turn off the main alleys lined with souvenir shops, you pass ruins without roofs and full of bullet holes. So the city centre looks rather artificial.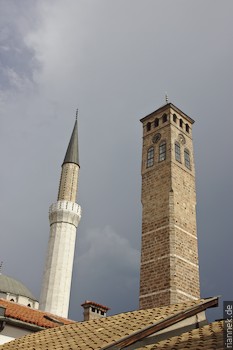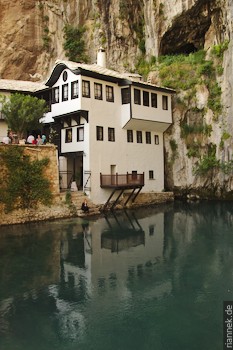 The war seems less present in Sarajevo, which is full of life and people crowd through boulevards from the time of the Habsburg occupation and through narrow bazaar alleys. But every now and then, one's gaze falls on endless white crosses in the background.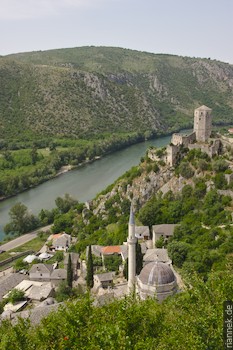 Relaxing, on the other hand, are three sights in the surroundings of Mostar. At Blagaj, a dervish monastery stands right next to a cave entrance from which a small river flows.
Pocitelj is right on the main road to Croatia, the beautifully situated village has Ottoman houses, mosques and 16th century fortifications.
Finally, the Kravice waterfall bears some resemblance to the better-known waterfalls in Croatia, but I found it much more worth seeing than Krka. However, there happened to be a BMW meeting in the car park that day, a huge queue of cars rolled up to it, vintage Caprios and brand new sleds drove past a grandstand to be cheered. An absurd Balkan cliché.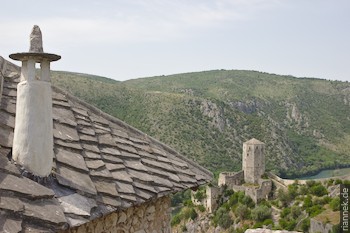 ---
Read on
Dubrovnik
Bay of Kotor
Krka, Trogir, and Split
Uvac Gorge
Modro Jezero (Blue Lake) and Crveno Jezero (Red Lake)