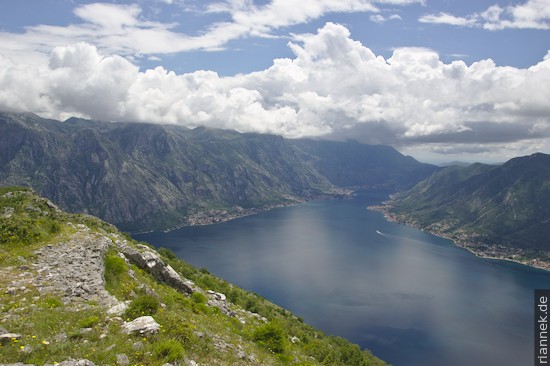 Almost like a fjord, the Bay of Kotor cuts into the mountains; only the bay was not created by ice-age glaciers (as explained in my book The Formation of Mountains). In addition to the scenic beauty, there are old towns and ancient churches.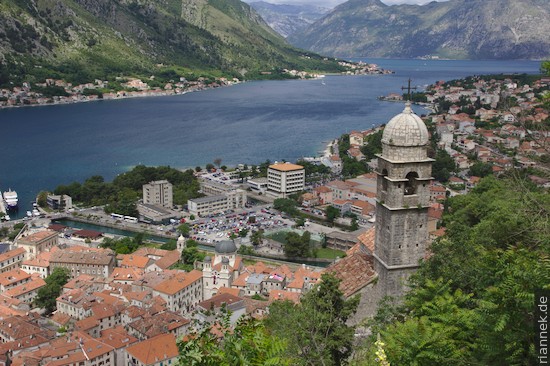 In fact, the bay consists of two parts. The outer one is wider and surrounded by lower mountains. If you are coming from the north of Croatia, you can make a first stop in Herceg Novi, with a small old town. As soon as you reach the bottleneck to the inner bay on the onward journey, the old town of Perast can be seen opposite, in front of it two islands with churches, only one of which is natural. Shortly before Perast, we stop in Risan and take a look at the Roman mosaic. The pretty old town of Perast actually consists only of the waterfront promenade and a parallel street. The church towers are reminiscent of Venice.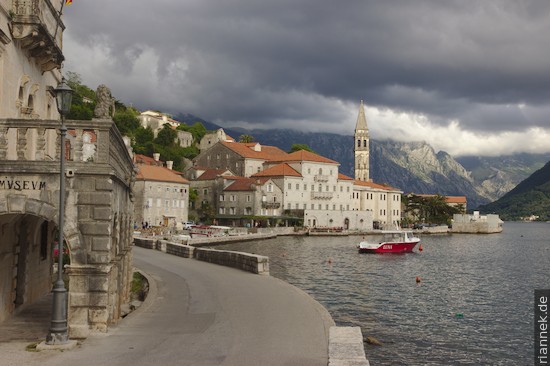 A few kilometres further on, in Orahova, we start a great day hike. At the highest point of the village, you follow the paved military path of the Habsburgs upwards in countless serpentines, with ever better views. When the ruins of a gendarmerie come into view, a little higher up you reach a fork and take the path to the left. You pass two abandoned villages (without a view), make your way through the undergrowth and finally reach a ridge overlooking the entire bay. A little higher, you reach a Habsburg fortress. A very steep and partly overgrown path leads down to Perast, from where you can take the bus back to the car.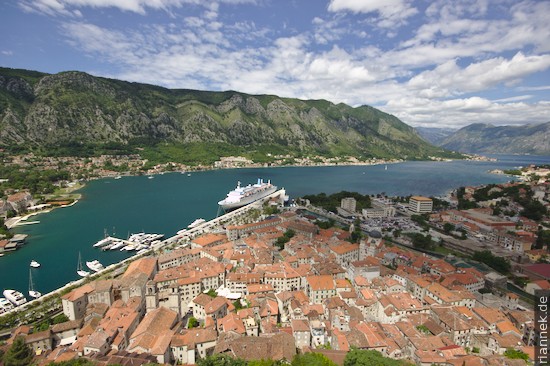 The pretty old town of Kotor lies at the end of the bay on a triangular peninsula overlooked by a castle. The climb to the castle is definitely worth it for the views.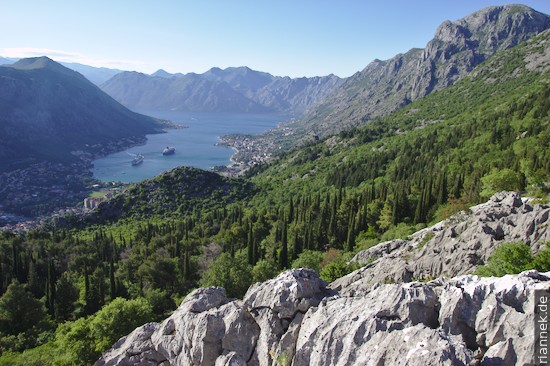 From Kotor, the Lovcén Pass road winds upwards in numerous serpentines. The views are so magnificent that I would love to stop at every bend. We want to camp at a parking bay, but while dinner is cooking on the gas stove in the dusk, a car stops and two men start cutting the grass on the side of the road with a brush cutter. They tell us they want to park a trailer here the next day to sell ham. In the end, we spend the night on the spot anyway, but have breakfast in the next village in the living room of the ham seller, after a tour of the smokehouse.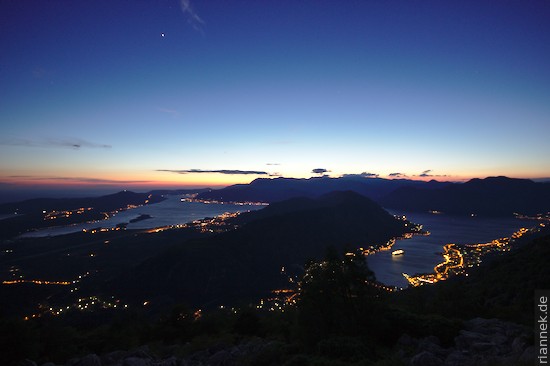 On one of the peaks of the Lovcén massif stands the monumental mausoleum of the country's most important local prince, which doesn't particularly excite me. Neither does the former capital Cetinje, on the other side of the pass, an absurd mixture of sleepy little town, village and magnificent government buildings.
---
Read on
Lake Skardar
Komovi
Sveti Stefan
Durmitor
Dubrovnik
The Formation of Mountains