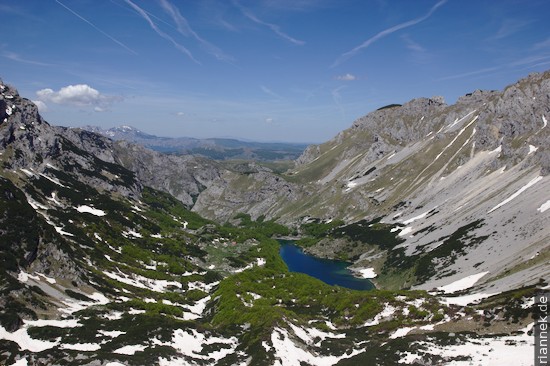 The Durmitor Mountains in Montenegro are among the most scenic regions of the Balkans (cf. The Formation of Mountains). Steep rocky mountains rise precipitously above a high plateau, interspersed with a series of tranquil mountain lakes, and on the northern edge of the mountains the Tara Gorge, the deepest gorge in Europe, cuts more than a kilometre deep into the plateau.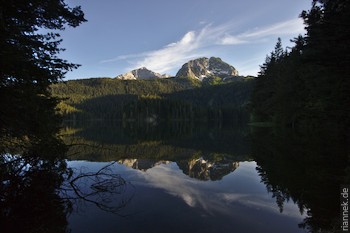 The starting point for tours is the small town of Žabljak, from where it is not far to the mountain lake Crno Jezero (Black Lake), whose circumnavigation is a must for tourists. Unfortunately, there was still too much snow to climb the highest peak, Bobotov Kuk…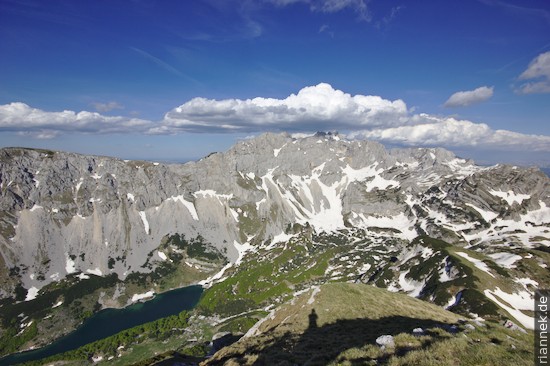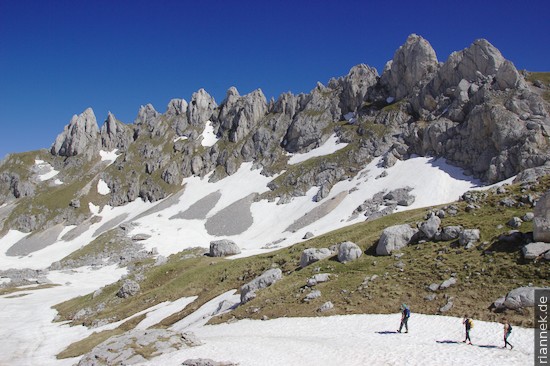 For a great day hike, we drive to the Sedlo Pass, from where we follow the route towards Bobotov Kuk. After a short ascent, we pass through a valley flanked by high rocky mountains. After a while, not only the highest peak can be seen, but also straight ahead Stit, a small mountain whose layers are laid in impressive folds.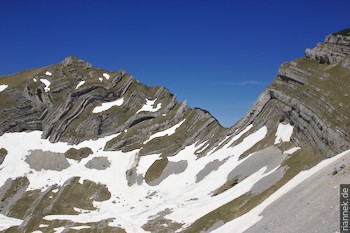 We try to cross the Samar Pass right next to it, but fail due to the amount of snow on the steep backside. Instead, we hike down the valley, turn right and climb Prutaš from the other side. It is easy going over scree fields and steep meadows. The view from up here (and especially from the north-eastern shoulder) is magnificent, with Lake Skrcko Jezero deep below a huge rock face with summits like Planinica and Bobotov Kuk; and the Stit with its folds further to the right. In the evening light we descend to the pass road and I jog up to fetch the car.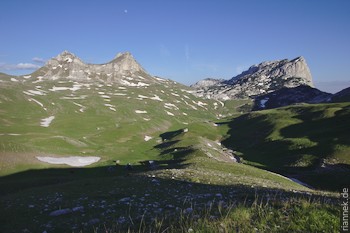 Another day we explore the mountain lakes below the Sedlo Pass.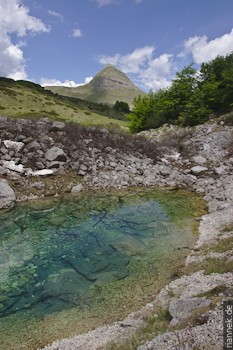 For a view of the Tara Gorge, we visit the Curevac viewpoint. From Žabljak take the road towards Trepca (turn-off directly in the centre of the village, not signposted). After about 4 km, just before the road enters the gorge, you reach a hikers' car park, from where you follow the edge of the gorge on a narrow path for about another 15 minutes on foot. The gorge is so deep that the river can only be seen as a narrow ribbon from above.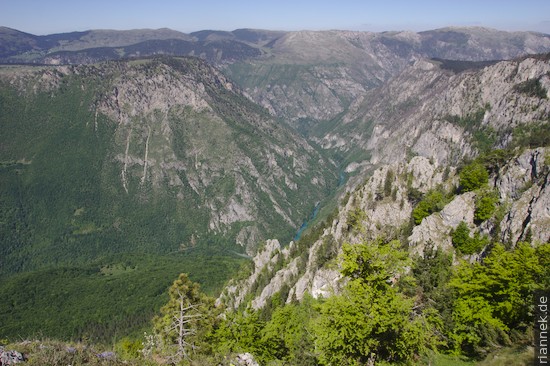 ---
Read on
Lake Skardar
Komovi
Sveti Stefan
Bay of Kotor
Uvac Gorge
The Formation of Mountains