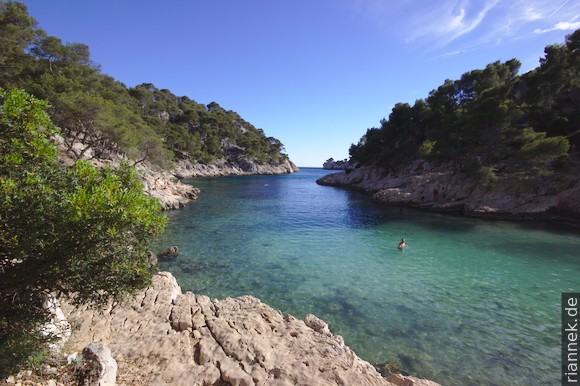 The coast between Marseille and Cassis is characterised by high limestone cliffs and, above all, long gorge-like bays, the Calenques. The area is a national park, but on a summer weekend you are anything but alone here… To explore the Calenques near Cassis, plan at least half a day — preferably a whole day, as there are many opportunities for worthwhile detours.
Our walk starts at a large car park on the outskirts of Cassis, on the peninsula between the Mediterranean Sea and the Calanque de Port-Miou. This narrow bay, almost 1 km long, runs almost parallel to the coast and is used as a marina. At the end of Port-Miou we follow the other shore to the mouth into the sea. Behind a narrow peninsula we meet the end of the next bay: the pretty Calanque de Port Pin. Even more impressive, however, is the Calanque d'en Vau, which is often compared to fjords because of its high rock walls. If you want to get to the beach at its end as quickly as possible, take the GR hiking trail from the end of the Calanque de Port Pin up to a saddle that cannot be missed and descend on the other side on a steep path into a gorge. Follow it downhill for about 700 m until you reach the water. A more beautiful variant follows the Calanque de Port Pin to the southwest and then turns high above the Calanque d'en Vau to the northwest until you reach the aforementioned saddle.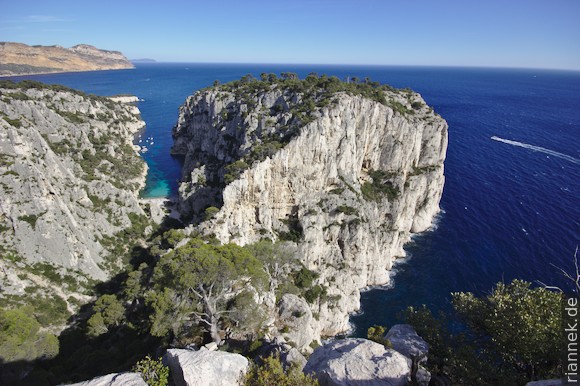 L'Oule is a recommended viewpoint with a magnificent view of the Calanque d'en Vau, the rocky peninsula Plateau de Castel Vieil and the neighbouring bay. It is somewhat remote, which has the advantage that hardly anyone goes up there. Where the steep path from the saddle arrives in the gorge of the d'en Vau, you follow the gorge upwards for about 500 m and turn left on the first path. You climb to the Col de l'Oule, where a road ends and several paths branch off. On the ridge, walk south again for about 700 m to the edge.
Incidentally, the Calanques have a similar geological past to Lake Como and the other large lakes in the Southern Alps: in the Miocene, the Mediterranean Sea dried up completely for a time (a thick layer of salt in the sediments in the Mediterranean Sea testifies to the so-called Messinian salinity crisis). Rivers carved gorges into the terrain (which were later filled in as sea levels rose) and at the same time numerous large cave systems were formed in the limestone. Today, numerous underground rivers flow through the caves into the bays, the strongest source being in Port-Miou.