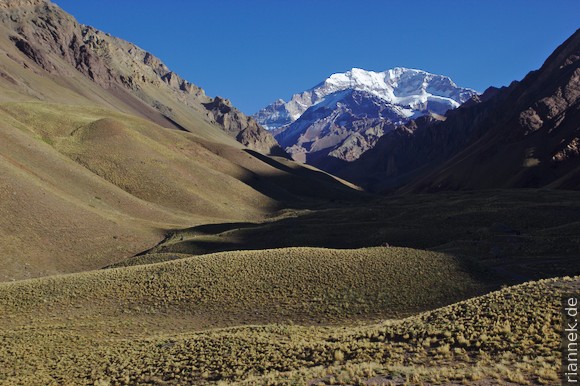 Aconcagua, at 6962 m the highest mountain outside Asia, is located in the Andes just beside the border post on the main pass road between Santiago de Chile and Buenos Aires. From the pass road, a small road leads up a side valley to a hikers' car park just below a series of small lakes (the largest is called Laguna de los Horcones). From the short circular trail you have a good view of the mountain giant. Particularly fascinating is the hanging glacier, which hangs like a huge balcony across the mountain face. This was once a normal valley glacier behind a mountain ridge, but the ridge has rushed down into the valley in a huge landslide — the result is the hills between which the lakes are located.
The Andes are largely dominated by active volcanoes because the oceanic crust of the Pacific is subducting below the South American continent. Aconcagua, however, is located in a section without active volcanism, extending from the Tupungato volcano, located a little south of the pass, about 200 km to the north. In this zone, old sediments and volcanic rocks were uplifted by tectonic movements (Aconcagua itself consists of old volcanic rocks, but the activity already ended in the Miocene). In my book The Formation of Mountains I explain in detail how this geology, which is unusual for the Andes, came about. Incidentally, this also has to do with the copper deposits in Chile, see my book The World of Mineral Deposits.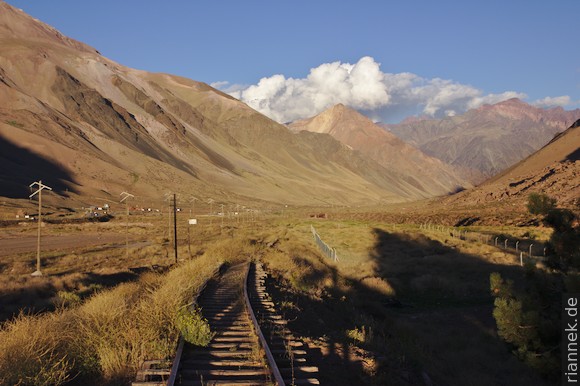 A few kilometres down the pass road we spend the night in a simple hostel in the village of Puente del Inca — in the tin station of the former narrow-gauge railway. The actual so-called Inca bridge is right next to it, but it was not built by the Incas, it was formed purely naturally by the deposition of sinter limestone. By the way, there is something very similar in Armenia.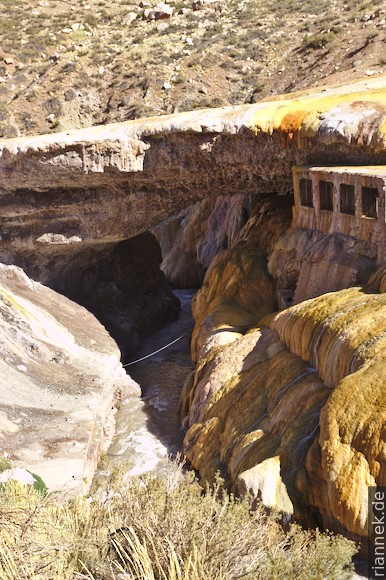 ---
Read on
Valles Calchaquíes (with Quebrada de Cafayate, Cachi and Los Cardones)
Quebrada de Humahuaca
Talampaya and Ischigualasto (Valle de la Luna)
Patagonia
The Formation of Mountains