The beach vendor looks at me incredulously: "why do you come to the beach if you don't want to buy anything?" Well, why? To forget the stress of university, to swim, relax in the sun or read a book in the shade. Eat delicious fish in the evening… And just in time for the European autumn, I've got a bit of a tan after all. But he doesn't understand that I like getting a tan either!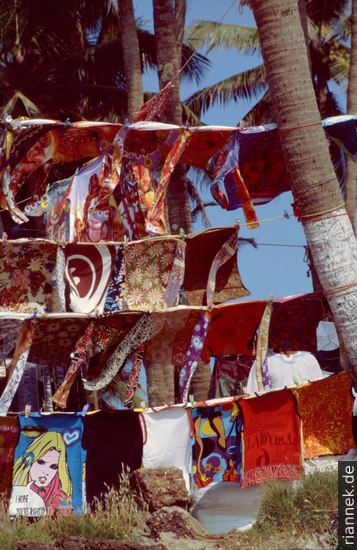 Arambol is a rather quiet beach in the north of Goa, with nice restaurants on the beach. The large, clean room costs me only half as much as the wooden shack on the third floor of a concrete block in Mumbai, which was just big enough for the narrow, stained bed and my backpack. The beach here is still in the hand of backpackers and freaks and the season hasn't really started yet.
It takes two hours by bus to Old Goa, the former capital of the Portuguese colony, which is said to have been almost as magnificent as Lisbon at the end of the 16th century. All that remains are a few large baroque churches.
On Wednesdays, everyone goes to Anjuna for the market, where traders from all over India (and some from elsewhere, European hippies included) sell jewellery, clothes, stones, souvenirs. Trance blares from the speakers on every corner and the percentage of hippies and freaks is quite high – this used to be the place to see and be seen. I was told that most of the cheap-and-kitsch souvenirs are made in China. In the evenings, and this too is typical for Goa, I ride in the back of a scooter through Anjuna and Vagator, from one party to the next. Since parties have been banned in public, e.g. on the beach, some of the flair and cult factor has certainly been lost. Only occasionally are there still parties on the beach, thanks to Baksheesh. However, we spend the night in two clubs that have something of a Goa party about them, but it is still a club. The bigger one stretches down the cliff over several terraces to the sea. Upstairs I dance the night away, downstairs women sitting on carpets under palm trees are selling chai. One, however, gets a bit annoying after I and 2 others remain sitting afterwards without consuming anything.
The restaurants here all have the same menu (fish, Italian, Chinese and Tandoori Chicken). Food from Goa is hard to find. Very few who work here are from here, instead from all over India, Nepal, Singapore …
Meanwhile, I'm in Palolem, a crescent-shaped picture-book beach in South Goa. But there are also some typical resort tourists here, there are deckchairs and umbrellas in some places and it's much more crowded – but I'm going on to Kerala tomorrow anyway.
It's a bit strange that there are cows on all the beaches. Yesterday there were as many as on an alpine meadow. In Arambol, I watched a cow stick its head into a backpack, it chewed a big pack of chewing gum and swallowed it. Then she came over to me, stared at me and started drooling.
---
Read on