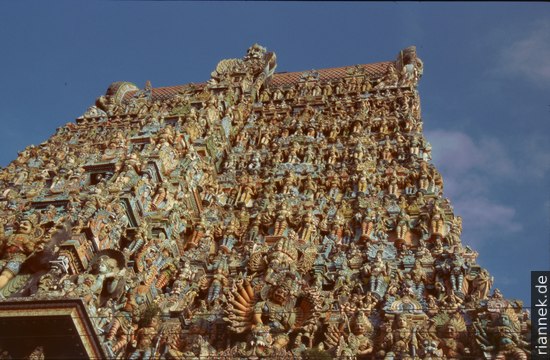 Around 10,000 pilgrims scurry through the temple in Madurai every day. They walk in circles around the pillars whose reliefs depict some god or other, pour oil and pile coconuts on the Nandir (Shiva's buffalo) or throw butter at one of the larger statues of the gods – accordingly, it smells slightly rancid. In the middle of the temple are two decorated elephants, from which you can get a blessing for 10 rupees. The temple itself has tall towers above the gates, decorated with countless figures, painted in kitschy pink and light blue. Around the temple, beggars swarm; in the vestibule, tailors with their foot-operated sewing machines jam between the columns and figures. The market alleys are crowded, a constant change of colours, smells (from jasmine to urine) and sounds.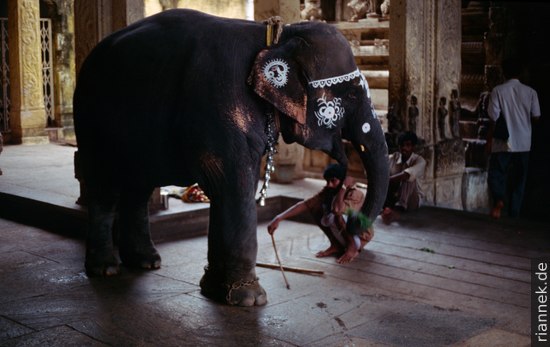 Here at the southeastern tip of India, it's Northwest Monsoon right now, which means it rains a little too often on some days to stay here for long.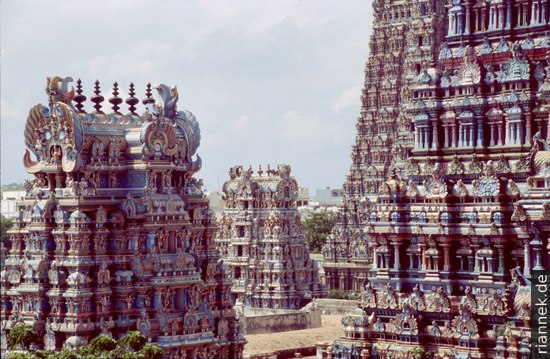 In Tiruchirappalli (Trichy) and Chidambaram I had a quick look at even more temples, because I had to change trains anyway…
The temple of the Chola culture in Thanjavur (Tanjore) from the 10th century is not so kitschy painted, which I like much better. And not so crowded.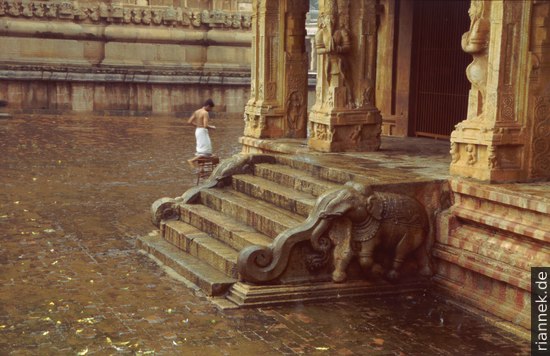 Somewhere between Thanjavur and Pondycherry the bus stops, the road is closed. Then a mob armed with sticks walks past. Everyone on the bus is calm, but suddenly no one can speak fluent English: "fight" is the only thing I am told. When we finally drive on, there are masses of riot police standing around, a few windows are smashed. The newspaper said that people from the neighbouring village had come to the Diwali festival and rioted with firecrackers until there was a lot of noise…
In the former French colony of Pondycherry there is nothing special to see, only the flair and French cuisine. But in Mamallapuram there are impressive temples again. Here you can also see what happens when a culture used to carve temples as caves into the rock and now wants to reach high: A complete granite rock was cut away and 5 small temples were left standing!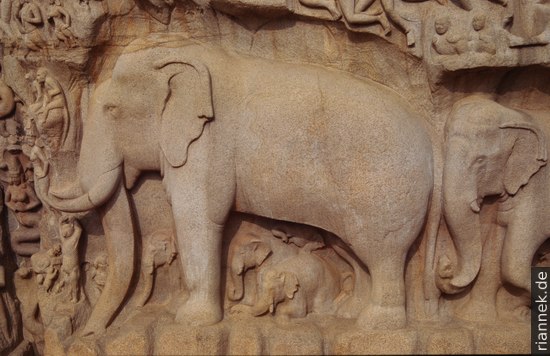 Now I am in Bangalore (cheap internet!) waiting for the train to Hampi.
---
Read on