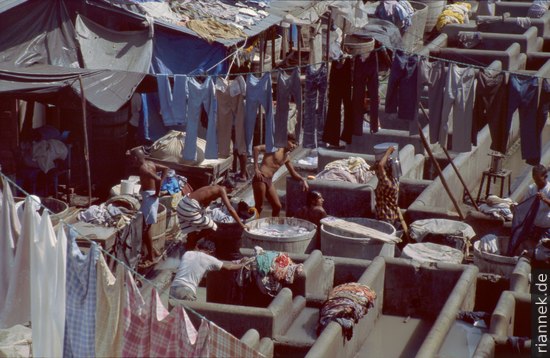 So I landed in Mumbai (Bombay). The culture shock wasn't as severe as I expected and I quickly got used to the "Hello my friend". Fatigue was a bit more of a problem on my first day: I fell asleep on the boat to Elephanta Island. I still found the cave temple on the island interesting, especially that for some reason Shiva is depicted in a relief half as a woman and half as a man. Otherwise, the city consists mainly of half-ruined colonial buildings, through which I wandered with a guy from Colmar. The most exciting thing, however, was the Dhobi Ghat, where thousands of men stand in small concrete basins and wash all the city's laundry.
Wait, I had already forgotten about it, but there was a culture shock: in Mumbai, we crossed a multi-lane road near Chowpatti Beach – and there was a baby sitting on a traffic island surrounded by cars, and far and wide there was no one who cared. Shocking.
The flight was pretty uneventful, except that the controls are getting more and more blatant. In Frankfurt I even had to take off my shoes and my hand luggage was x-rayed 4 times.
This morning I arrived in Goa, where I am hanging out on the beach at Arambol.
---
Read on