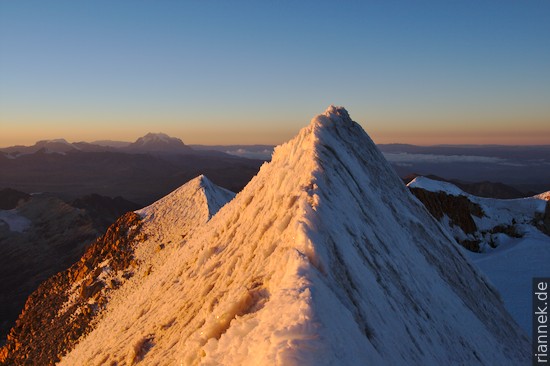 Immediately north of La Paz rises Huayna Potosi, one of the ice giants of the Cordillera Real ("Royal Cordillera"). The 6088 m high mountain is climbed very often because it is easy to reach, because there are huts and because it is relatively easy to climb. I decide to do the climb in 2 days instead of 3, as the first day is usually just to get used to crampons, ice axe and the altitude. On my first day, I climb to the upper hut with my mountain guide in about 2 hours. Unfortunately, my sleep up there is disturbed less by the thin air than by an Argentinian couple who won't stop whispering.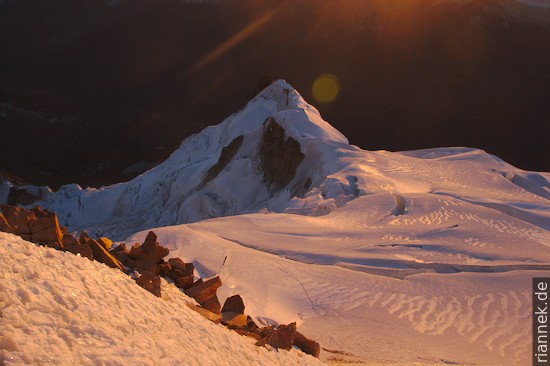 At 2:30 we start walking by the light of my headlamp (the mountain guide probably wanted to save the batteries). We are the second to last, the first have stared almost 2 hours earlier. We trudge up the glacier in wide curves, there are only a few small crevasses that can be overcome with one big step. We only take short breaks and thus overtake group after group. Eventually it gets steeper, and we reach the summit ridge, where we overtake the last two groups on easy climbing: just in time for sunrise, I am the first to stand on the summit after 4 h 15 min.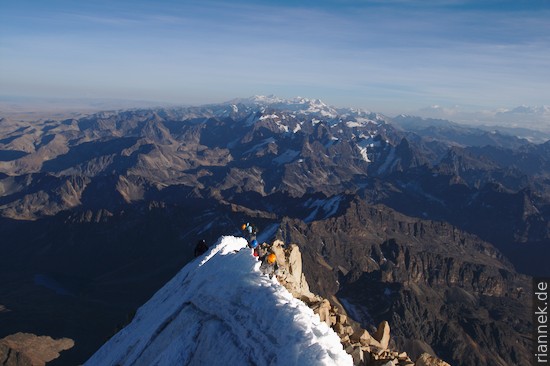 All around me, a magnificent view: To the south, the huge mountain Illimani, the outskirts of La Paz and El Alto; to the north the rest of the Cordillera Real with Illampu, Ancohuma, Condoriri, etc. and next to it Lake Titicaca. In the southwest, even the extinct volcano Sajama can be seen in the haze. To the east, dense clouds pile up in the Yungas, the slope of the Andes to the Amazon basin. Two hours later (after many photo stops) I get a soup at the hut, which strengthens me for the rest of the descent.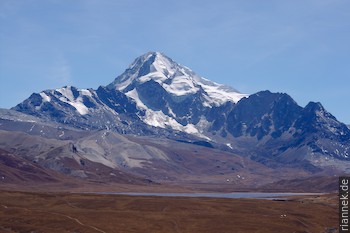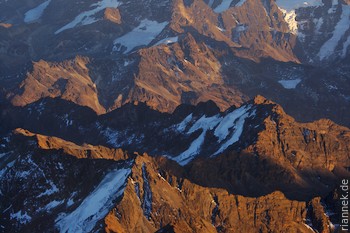 Read on
Travelogue Andes 2010
The Formation of Mountains
Arequipa and Isla del Sol
Cycling into the Yungas
La Paz
Sajama and Lauca
Ascent of the Illimani
Amboro National Park
From Uyuni to San Pedro and ascent of Licancabur