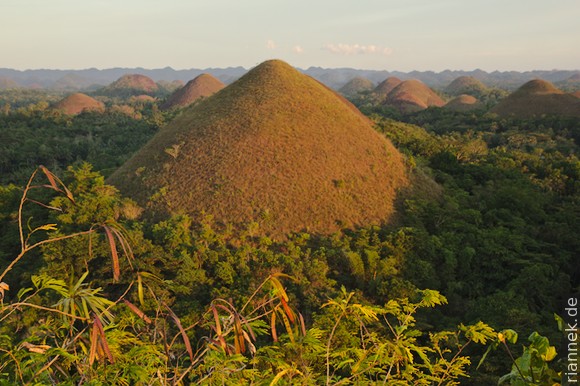 A very beautiful and relatively well-known example of tropical karst landscapes (cf. The Formation of Mountains) are the Chocolate Hills on the island of Bohol: very symmetrical cone-shaped hills that are regularly arranged on a plain in large numbers (best seen in aerial photographs). In the dry season, the hills are brown and, at least in the light of the rising or setting sun, they look really chocolatey. At least some hills, because many are overgrown with green forest.
I read contradictory theories about their formation, for example in the museum in Tagbilaran a less plausible one with erosion by waves and rivers. Rather, it is a particularly regular example of cone karst, a landform that is very typical for the tropics. This is because in tropical climates, plants grow rapidly and plant material in the soil breaks down quickly, releasing large amounts of organic acids. These dissolve the limestone — and this happens least where there is already a hill. Compared to other examples like the karst towers near Guilin (China), in Halong Bay (Vietnam) or in southern Thailand, the Chocolate Hills are still relatively small, they are not yet high cliffs but just hills that are still covered with soil.
The rather touristy main viewpoint actually seems to be one of the best viewpoints. A road leads up to a restaurant halfway up a cone. The terrace at the top is a terrible ruined building with structural steel sprouting from the concrete, only those who climb over the barrier get a photo without reinforced concrete. When the setting sun finally emerges from under a large cloud and the hills light up, I look for positions from which the selfie-stick crowds cannot be seen. Just before I press the shutter, I hear a whirring sound and a white drone rises in front of me, now flying penetratingly back and forth in my camera's field of vision. This is already the fifth drone I've encountered on this trip; presumably in a few years these annoying devices will be buzzing around every vantage point on earth and ruining every photo taken from the ground.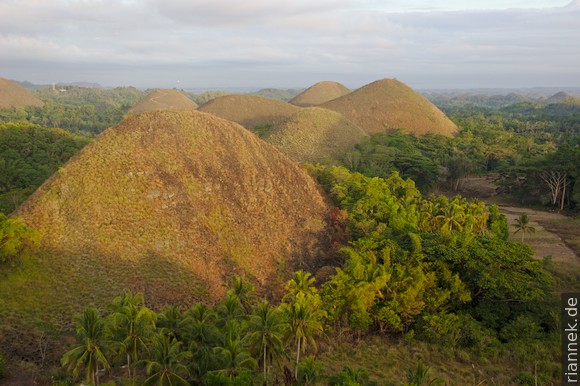 I also look for other viewpoints. On the main road, 300 m southwest of the turnoff to the main view point, a narrow, unpaved road branches off, next to the Qaud rental. On this road, after 600 m, you reach a hill on the right, with a path leading up to it. I try two more hills, one with sparse trail tracks, the other without. The steep ground is quite slippery and you have to be very careful especially when descending. Unfortunately, the respective views were never as good as at the main commercial viewpoint.
To visit the Chocolate Hills, it is worth renting a motorbike (or a scooter) in Tagbilaran for two or three days and to also visit other attractions on the island. These include a breeding station with tiny tarsiers in a large outdoor enclosure, and the river at Loboc, surrounded by jungle-covered mountains, over which floating restaurants ply with loudly blaring music — beautiful Asian kitsch.
---
Read on