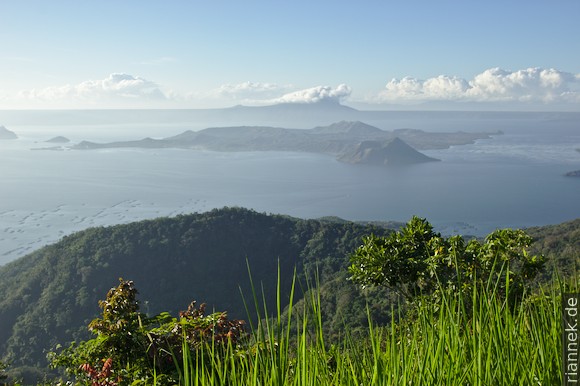 Magma and water make an explosive combination, as water evaporates abruptly due to the heat (cf. The Formation of Mountains). In volcanic eruptions on small islands, so much water can possibly reach the vent that one explosion follows the next at high frequency. Volcanologists speak of phreatomagmatic eruptions. The magma itself is fragmented to dust size and rises as an ash cloud. However, pyroclastic flows are also released by phreatomagmatic eruptions, mixtures of ash and hot gases that contain a lot of water vapour and relatively little ash. They occur in high frequency like pressure waves. These so-called surges form very typical deposits of thin layers of tuff, usually flat on top of each other, but now and then eroded by later surges. The result looks similar to cross bedding in sandstones. The crater itself is enlarged by the explosions and therefore usually has a large diameter.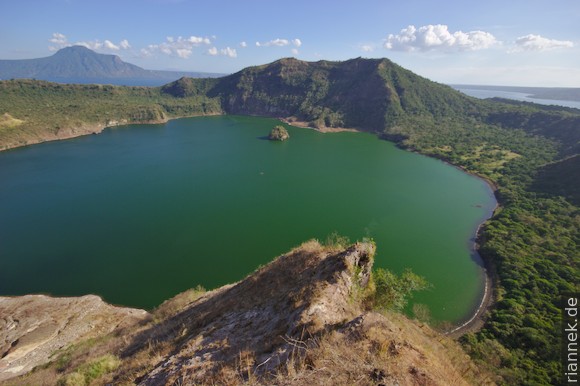 We owe our knowledge of this type of eruption mainly to the volcanologists who observed such eruptions at Taal volcano on the island of Luzon (Philippines) in the 1960s and 1970s. Taal is a small volcanic island consisting of a large number of craters that lies in the middle of Lake Taal. The lake is more or less oval in shape, 18×25 km in size and fills a large caldera created by previous volcanic eruptions. There are also many fish farms in the lake.
The city of Tagaytay is located only about 20 km south of the outskirts of the metropolis of Manila, directly on the caldera rim. Unfortunately, there are not many public places here to enjoy the view down to the lake and the volcanic island. The crater rim is lined with private houses and restaurants. There is a restaurant terrace, also accessible at sunrise, opposite the high-rise buildings 1.5 km west of the central intersection (Olivarez Plaza).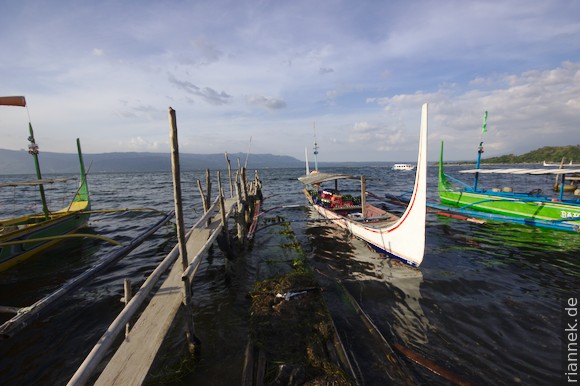 From Tagaytay, a rickshaw takes you down to the lake, where a comparatively expensive bangka — an outrigger boat — can be hired. On the island, you first pay an entrance fee, wave off the waiting guides and horse owners and take a wide, dusty path to the main crater. This is in turn filled by a green crater lake about 2 km in diameter. In this lake there is a small rocky island. It is a well known geographical curiosity: an island in a lake on an island in a lake on an island in the sea. To walk a little along the crater rim to a place with fumeroles, I have to pay admission again. And back to the boat, someone wants to collect tolls for the bamboo footbridge we use to get on our boat…
---
Read on