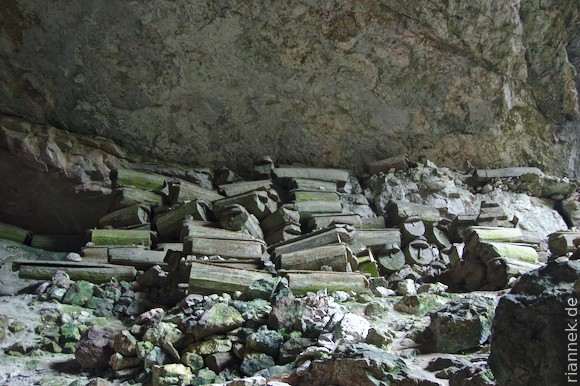 Sagada is a small town in the Cordillera in northern Luzon, with pine forests, jagged limestone cliffs, caves and the famous coffins hanging from a rock face. I find this place interesting, but completely overrated. A certain travel guide popular among backpackers (which is equally overrated) even describes Sagada as a backpacker's paradise, but the supposedly wonderful views from the hostel windows offer mainly shabby corrugated iron roofs and ruined buildings made of reinforced concrete, between which only a piece of a small mountain can be seen here and there.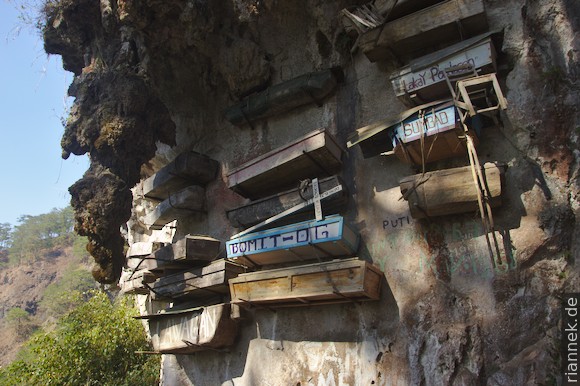 The place is known for its coffins, sometimes suspended from a rock face, sometimes stacked in a cave entrance — a tradition that dates back to pre-Christian times, of course, but was maintained after the Spanish arrived and was still practised until a few years ago. In particular, the hanging coffins in Echo Valley (the valley itself is far less spectacular than I had imagined from the description in the guidebook) are visited by many tourists with a slightly morbid fascination. A Filipino group next to me talks quite appropriately about "flying coffins" and I inevitably think of vampire films.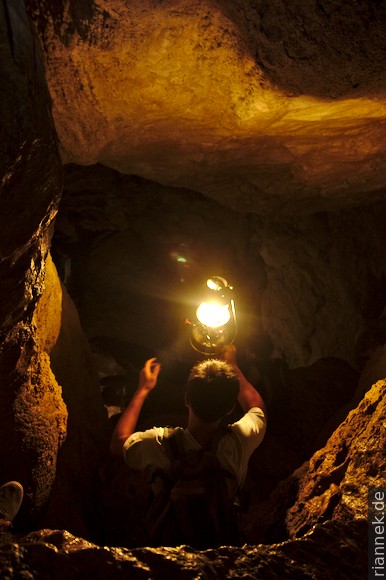 Caves are the second big attraction of the place. I let myself be guided through the "Cave Connection": We enter through the cave gate of Lumiang Burial Cave, where several coffins are stacked on top of each other. We leave the photographing groups behind and disappear into the darkness, walking, climbing and crawling through narrow passages, corridors and wide halls, the three of us with a single carbide lamp. This is how we reach Sumaging Cave underground, which is so popular and full of visitors that we head for the exit as quickly as possible.
---
Read on