The processes that create and shape mountains are just as fascinating as the resulting landscapes. This book invites you on a geological journey around the world. Popular travel destinations are explained in detail, making it a kind of guide book for travellers interested in earth sciences. It also unearths many surprises that are not covered in classic textbooks. I wrote it for everyone who likes to be in the mountains, for example, for hiking, mountaineering or climbing. However, the book is also suitable for students of geography and geosciences, especially when preparing for a trip and to look beyond the horizon of one's own discipline.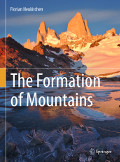 The book has been published end of November 2022 by Springer and is on sale in bookshops. Ebooks (PDF and kindle) are available from some online bookshops or from Springer Link. By the way, the cover shows Fitz Roy from Laguna de las Tres.
More than 10 years have passed since the first edition of Bewegte Bergwelt was published in German. Since then, geology has evolved; there are new seismic profiles, more accurate age datings and many other interesting studies. The present translation is based on the completely revised, updated and expanded second edition that was published a few weeks ago.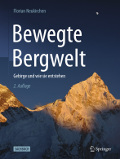 The cover of the second German edition shows Mount Everest and Nuptse, seen from Kalar Patthar at sunset.