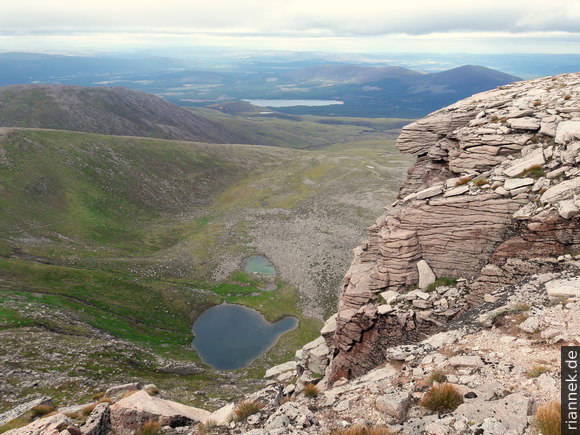 The Scottish mountains of the Cairngorms reminded one Sámi so much of his homeland that in the 1940s he released reindeer from Lapland, which we actually encountered. Here are some of the highest mountains in Britain, mostly rounded knolls and relatively flat plateaus, with a harsh climate and sparse vegetation. On some mountains there are also small cirques with corresponding rock walls.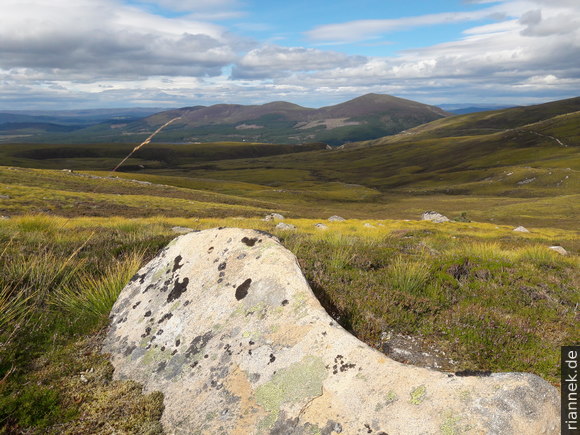 We walk from the valley station of the funicular (the whole slope from here up to the highest peak is a very ugly ski area) parallel to the slope southwest to a plateau (here we meet the reindeer), which is closed above by a cirque with rock walls. Our destination is Cairn Lochan, the southernmost peak of this ridge (which is steep only on this side). We climb to the right of it on a path visible from a distance over a wide ridge. Once on a higher plateau, we turn left and take a steep path up to the summit. The view of the craggy granite walls, over the cirque and down to Loch Morlich and various smaller mountains is beautiful, with a freezing wind blowing. After less than 4 hours we are back at the car park.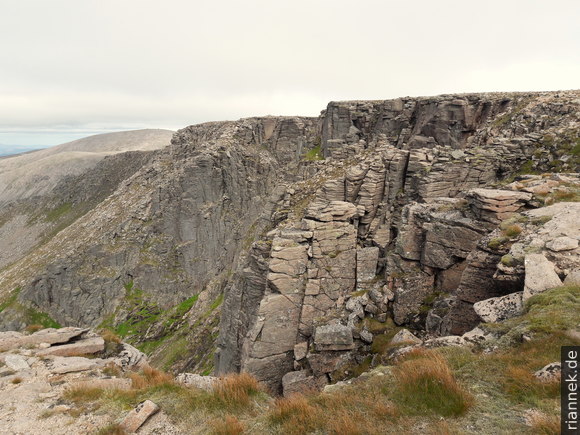 The next day we do another similarly long hike, starting just behind the Glenmore Visitor Centre (across the road from the Loch Morlich campsite). We climb first through forest and then through a beautiful red flowering heathland in an arc up to Meall a' Bhuachaille (a small peak whose shape and red colour we had already noticed the day before), from where there is a good view of the Cairngorms. On the other side we descend to the small cottage of Ryvoan Bothy, which is set in flat moorland and heathland. We turn right to the small loch of An Lochan Uaine, which is in a very small and short gorge. Via the panoramic path (with a short ascent and descent) we reach the starting point again.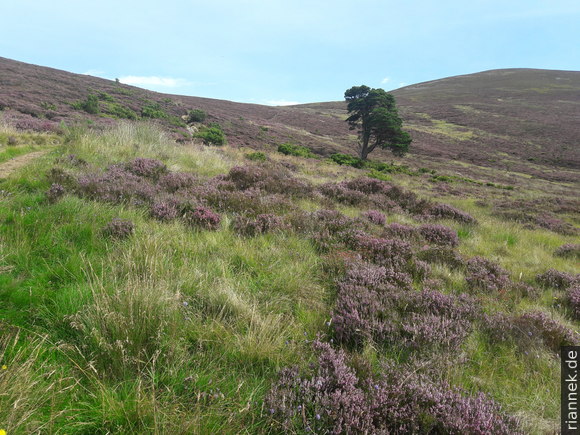 ---
Read on
Isle of Skye
Eilean Donan Castle
Ben Nevis and neighbouring Munros
Glen Coe
Unconformity at Siccar Point
Orkney Islands
At Fingal's Cave on Staffa