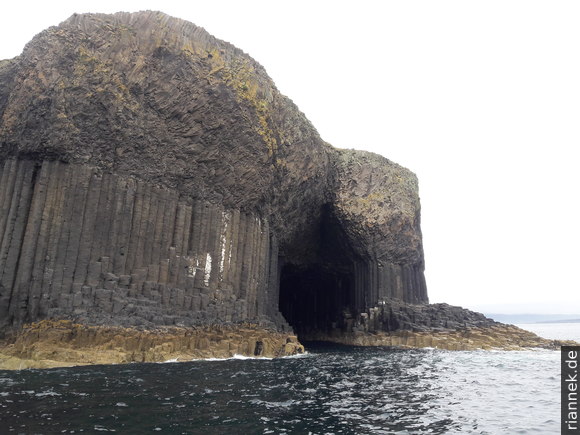 The small island of Staffa is a black rock in the sea whose wall is made up of large perfectly shaped basalt columns in the lower half, while the upper half is a mesh of small curved columns. The waves have broken several small and larger caves into this rock face, the largest of which is known as Fingal's Cave. The lavas, which are about 60 million years old, are part of a larger volcanic complex that was on land at the time, the remains of which build up large parts of what are now the islands of Mull and Skye. This in turn was part of a larger volcanic region that also extended to the Giant's Causeway in Northern Ireland (cf. The Formation of Mountains).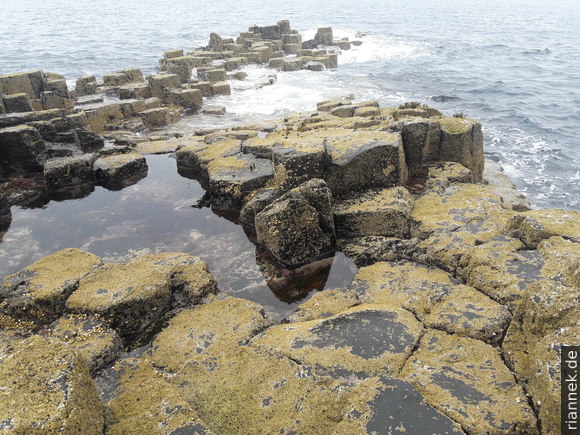 The island was discovered much earlier (the Vikings gave it their name), but it was put "on the map" and in the books by the botanist and explorer Joseph Banks, whose ship dropped anchor at the neighbouring island of Mull in 1772 due to a storm during an expedition to Iceland. Someone told Banks about the rock formations on Staffa and when he visited them the next day he was so excited by Fingal's Cave that he called it "one of the greatest natural curiosities in the world".
More and more naturalists, artists and writers and the odd king came by as a result. Felix Mendelssohn Bartholdy was inspired to write the overture "The Hebrides", Romantic painters painted the cave from all perspectives and by the early 19th century there was mass tourism.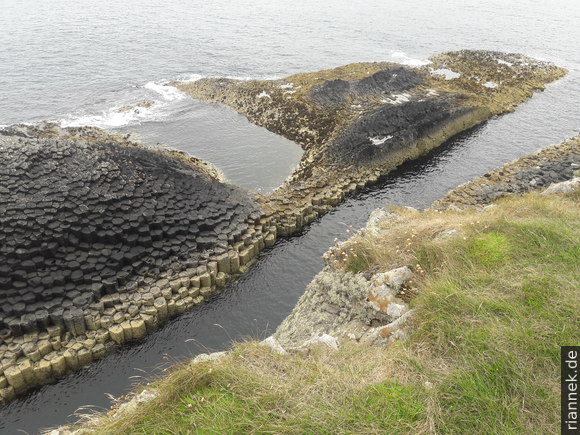 A year ago I explained how basalt columns are formed using the example of Panská skála, and I photographed another impressive example in Armenia. But each occurrence has its own set of forms and its own mood, in Staffa's case thanks to the rough Atlantic.
Between May and the beginning of August, a colony of puffins breeds on the island, which have already thrilled me once in Iceland. These birds, which are somewhat clumsy on land, look almost like flying penguins with colourful beaks.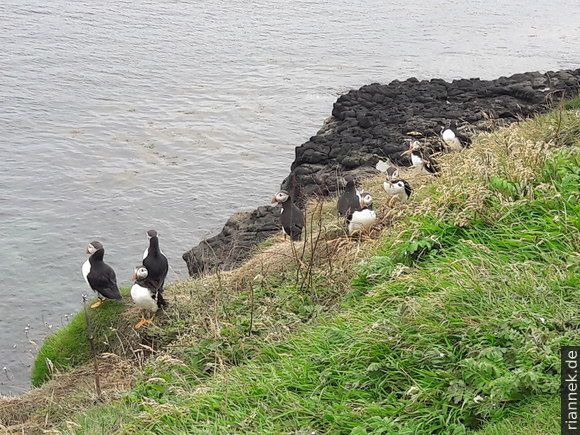 From Orban, there are organised day trips to three islands, with Staffa being the highlight, and not just for me. First you take the ferry across to Mull and then buses on a one-lane road to Fionnphort at the other side of the island. Small boats sail from here past a seal colony to Staffa, where we go ashore near the cave and spend a far too short hour on the island. The boat then drops us off on the island of Iona, where there is an old monastery to visit, from which Irish monks once Christianised Scotland. A short ferry ride takes us back to Fionnphort where the coaches are waiting.
---
Read on
The Formation of Mountains
Isle of Skye
Eilean Donan Castle
Ben Nevis and neighbouring Munros
Glen Coe
Hike in the Cairngorms
Unconformity at Siccar Point
Orkney Islands