The Corona virus and cancelled flights threw off all plans at the end of our trip. Instead of visiting Aksum in the north, the rock churches in Tigray and the Erta Ale volcano, we drove a second time to the Ethiopian Rift (which is part of the East African Rift). It is filled by a chain of lakes, which are usually not connected by watercourses and mostly have no outflow. Accordingly, they are more or less salty. In the south, we were at Lake Abaya and Lake Chamo at the beginning of the trip, now we drove to a series of somewhat smaller lakes closer to Addis Ababa.
The deep Lake Shalla fills a large caldera and the view from the caldera rim was really beautiful. In autumn, thousands of flamingos nest on its shores, but we encountered only a few. A little further on, a boiling hot spring bubbles, in the stream next to it the locals and their cows take a bath. An isthmus only 2 km wide separates it from Lake Abijatta, which is shallow and very salty. In the national park there are many villages, fields and herds of cows, while antelopes etc. can only be seen in an enclosure.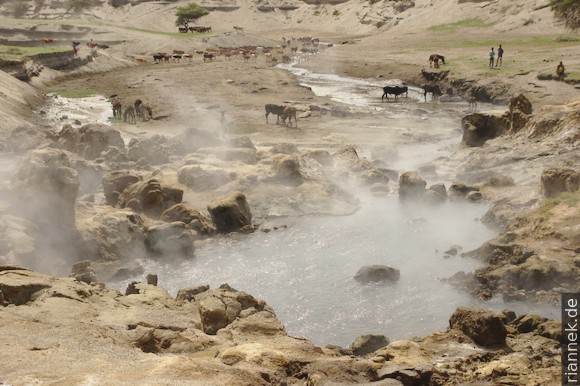 Nearby is Lake Langano, whose brown water is so alkaline that there is no bilharzia and it is safe to swim (and you don't need soap). Accordingly, one resort follows the next on its shores; the rich from Addis like to spend their weekends here.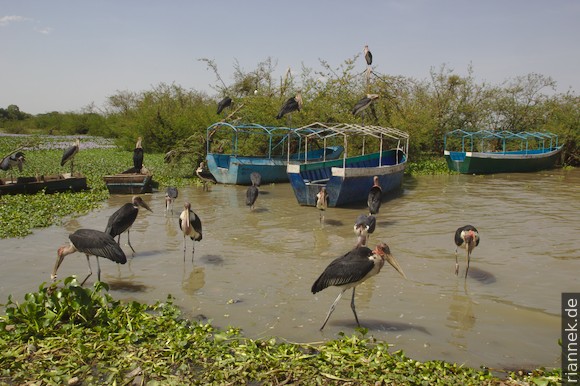 Lake Ziway, in turn, is the centre of industrial agriculture. Gigantic greenhouses grow flowers for export, but also strawberries, oranges, etc. We stop at the Ziway jetty (where the fish market was in the morning). While children splash in the water, pelicans swim by, hundreds of marabous strut along the shore and on the fish market lawn.
---
Read on