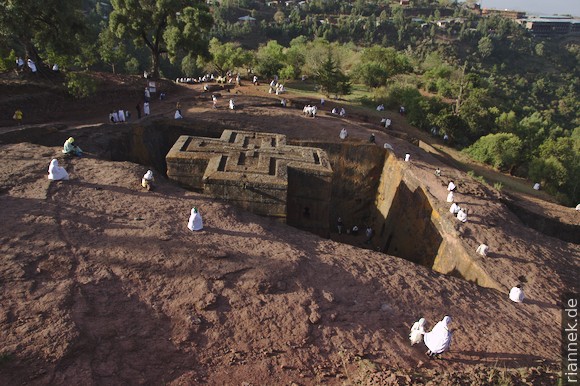 The fascinating 12th/13th century rock-hewn churches of Lalibela are the religious centre of Ethiopia. They were meant to represent Jerusalem, including Golgotha, the tomb and the Jordan River. The churches were completely cut out of the rock, surrounded by a steep ditch. The rock was removed, leaving churches with detailed facades, columns and vaults. The façades borrow from the ancient architecture of the Aksumites. Between the churches there is a system of ditches (used for access and drainage) and underground passages. The layout is remotely reminiscent of places like Petra, Cappadocia or Ellora, but in Lalibela they are still vividly used as religious sites.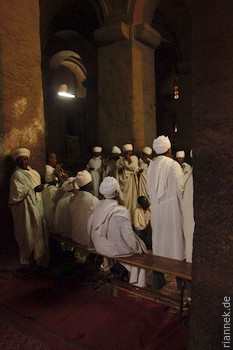 Coincidentally, we were there on a feast day, halfway through Lent, and crowds of pilgrims in white cloaks streamed around the church, rattling their sistrums and singing chants leaning on their staffs. Added to this somewhat spiritual mood (which, as a culturally interested atheist, I took in as an observer) was a certain Indian Jones feeling as I explored the passages.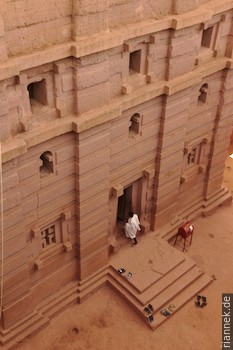 The best known is St George's, a cruciform church that looks like a large stone version of the small wooden altars that stand hidden from view in the inner sanctums of churches (some are visible in museums). From the outside, it is the most beautiful church. But Bet Maryam and Bet Amanuel have the most beautiful interiors.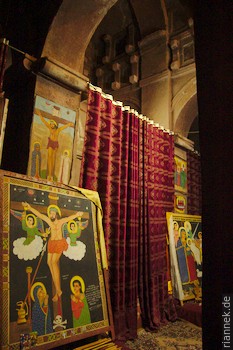 Ethiopia was the second country in the world where Christianity became the state religion: shortly after Armenia and shortly before Georgia. Lalibela also reminds me of these countries, perhaps not entirely by chance.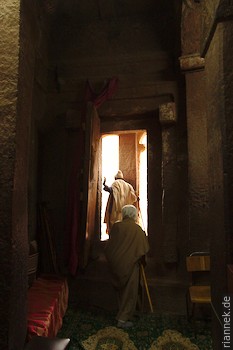 As more and more flights were cancelled because of Corona and the German embassy recommended organising a flight home while there was still one available, we booked a new (and expensive) ticket at an earlier date, which left us only a few days in Ethiopia. The Erta Ale volcano and the Danakil Depression, which as a geologist I was particularly looking forward to, were thus already cancelled. We planned to fly from Lalibela to Aksum and then to visit some of the churches in Tigray, but the night before the flight Ethiopian Airlines called us that the flight had been cancelled, and we would have to fly via Addis. That would have meant losing another day. We decided to stay in Addis and drive from there to the Rift Valley. A good decision, as it turned out later: The Tigray region soon declared a state of emergency and banned entry and exit. Yet there were only a handful of confirmed corona cases in Ethiopia … [Update: and the true reason was the emerging war]
---
Read on