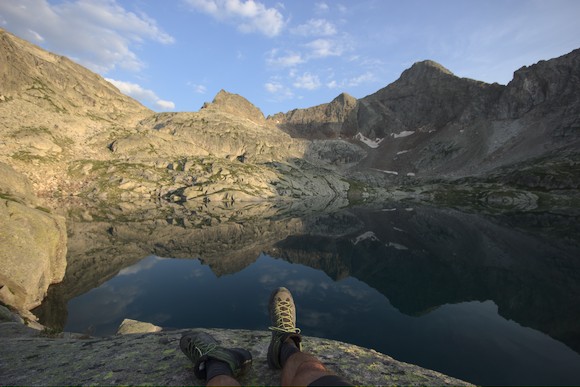 A throughike across the entire Pyrenees from one sea to the other: This is as grandiose as it sounds. You cross a beautiful mountain range with high rock faces, a few small glaciers and thousands of mountain lakes. And unlike the Alps, the landscape is not overdeveloped with cable cars, ski slopes and hotels.

You even have the choice between three long-distance hiking trails. Most people take the French GR10 (one of the best-known treks in France, along with the GR20 in Corsica). The Spanish GR11 runs roughly parallel on the other side of the border. In between (or sometimes following one of the GRs), the much more strenuous Pyrenean Haute Route (Haute randonnée pyrénéenne, HRP) leads in about 40 days alternately through France, Spain and Andorra; always along the main ridge of the mountains. Unlike the GRs, however, the HPR is not marked throughout. Often it follows unmarked paths (and you have to find out which is the right turn), sometimes it goes simply cross-country, over steep meadows or block fields. So it is only something for experienced trekkers with a good sense of direction who can move safely in alpine terrain. For those, the HRP is a beautifully wild and comparatively lonely trek that I would rank among the most beautiful in Europe. A few peaks like Vignemale and Pico de Aneto can be taken without much effort (if you have crampons).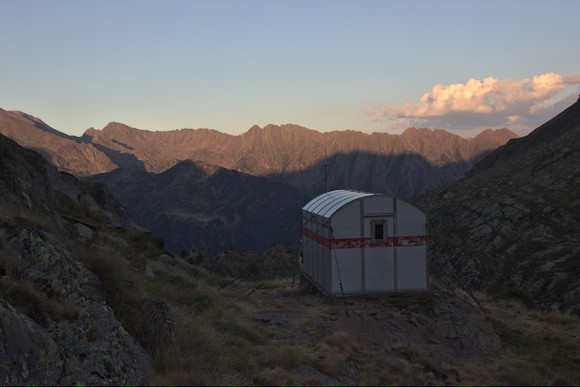 Stages in detail
I divide my log into 5 segments, each a little over a week long:
HRP part 1: From the beach to the mountains
Between Hendaye and Lescun, the HRP leads over green hills and finally through a whimsical karst landscape.
HRP part 2: Crossing the Pyrénées National Park
On the HRP from Lescun to Parzán with Vignemale, Gavarnie and Pic du Midi d'Osseau.
HRP part 3: Crossing high passes
Between Parzán and Salardú are the highest mountains of the Pyrenees and the highest passes of the HRP.
HRP part 4: On lonely trails to Andorra
From Salardú to L'Hospitalet-pres-I'Andorre, the HRP runs through the farthest corner of Catalonia and through Andorra.
HRP part 5: The last mountains before the Mediterranean Sea
Between L'Hospitalet-pres-I'Andorre and Banyuls-sur-Mer, the HRP leads over Pic Carlit and Canigou and then over numerous hills to the Mediterranean Sea.
Equipment
I had everything (except sleeping pad) including tent, stove and food for up to 7 days in a 60 litre backpack. A tent is highly recommended, without you would have to make some detours. In addition, some of the bivouac sites are very beautiful. In France, camping is generally allowed if it is not explicitly forbidden. In the Pyrénées National Park you are allowed to bivouac (with a tent) between 7pm and 9am (at least 1 hour away from roads). In Spain and Andorra, bivouacking up in the mountains is usually tolerated.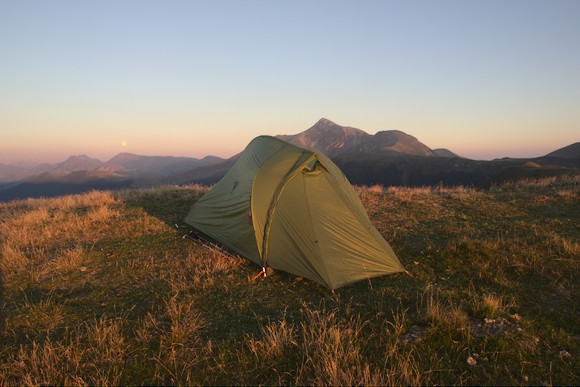 I had the guidebook by Tom Martens, The Pyrenean Haute Route (Cicerone). But I was a bit annoyed with this book. The weight alone: 390 g. How could anyone come up with the idea of printing a walking guide with marginalia? Without all the white paper and in a somewhat smaller format, one could easily have saved 100 g. It also contains some errors.
I also had the very short but good HRP Pocket Guide from Whiteburn's Wandering on my mobile phone.
As a map, I only had Maps.me with imported GPS track (see Pocket Guide) on my mobile phone, which was very helpful on some days.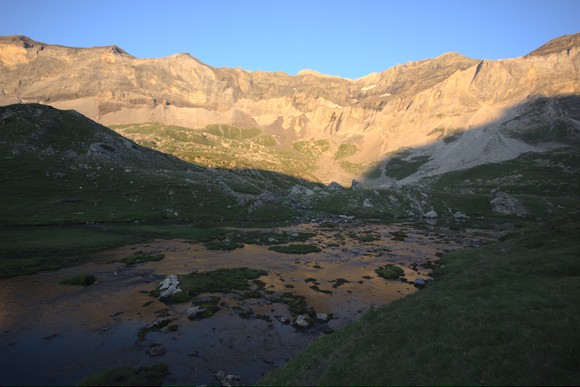 Food can be bought every few days. You have to carry a maximum of 7 days' worth of food, but in these sections it is also possible to hike down to a village about halfway along the section. Often these are small shops, some with a good selection, others not. Now and then you come across larger supermarkets on the Spanish side, but they specialise mainly in selling booze and chocolate to French bargain hunters. The selection of provisions for hikers is rather better in the small shops. Some of the small shops sell gas cartridges (both, screw-in cartridges and camping gaz): Col Bargargui, (Lescun only had camping gaz), Candanchu, Gavarnie, Bolquere.
Water is problematic, especially at the beginning and end; a few times you have to load several litres of water. On the central stages you can frequently refill your bottle. I had a 3-litre drinking system plus a 1-litre bottle; I also used Micropur tablets.
---